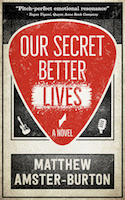 We're so excited to have Matthew Amster-Burton as our sponsor this week. His new novel Our Secret Better Lives is a funny, stirring, and exciting tale. Set in 1994, it's about Katy, a huge music fan on a big adventure to a new state and college, who finds herself doing one thing she never imagined: stepping in front of a microphone in a new band.
We've got a full chapter, and more information, on our sponsor's page so you can see just how deftly Matthew handles these engaging characters. No surprise — this may be his first novel, but it's his fifth book. Mark the date: March 19th at 11 am. That's when Matthew will be at Ada's Technical Books to talk about the work. But why wait? Ada's has the book for sale on their website right now. Pick up a copy! Support local authors and local indie bookstores all in one fell swoop.
Sponsors like Matthew Amster-Burton make the Seattle Review of Books possible. Did you know you could sponsor us, as well? Get your stories, or novel, or event in front of our passionate audience. Take a glance at our sponsorship information page for dates and details.