Every week we ask an interesting figure what they're digging into. Have ideas who we should reach out to? Let it fly: info@seattlereviewofbooks.com. Want to read more? Check out the archives.
Dawn McCarra Bass is the Associate Editor of the Seattle Review of Books, as well as a voracious reader and writer. It was fun to hear what she picks up when she's not editing reviews and reading all those long internet articles for the Sunday Post.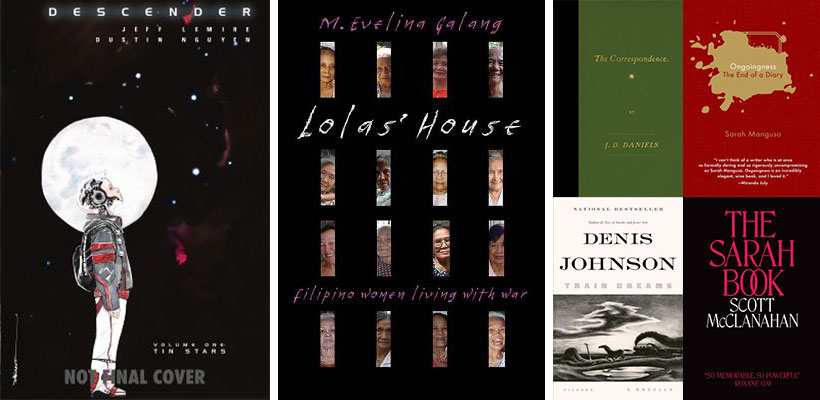 What are you reading now?
I just started Descender, by Jeff Lemire and Dustin Nguyen. I've been collecting single issues unread since April 2015, apparently. (I have a bad habit of hoarding books I expect will be good — against, I guess, some downturn in fortune when I'll need them. Book of Dust, Acceptance, I'm looking at you.)
I am batshit, batshit crazy about Jeff Lemire; he does loneliness and desolation with exceptional clarity and grace. He doesn't push self-pity on his characters or ask the reader to feel pity for them — just reminds you how human it is to be lost — whether he's writing about an over-the-hill hockey player or, in this case, a little boy who's an android. And the art by Nguyen is gorgeous, utterly signature to the series and yet infinitely adaptable to its moods.
What did you read last?
Lolas' House, by M. Evelina Galang, which captures the stories of a group of Filipino women who were held in Japanese rape camps during World War II. It went on my list while I was working on Donna Miscolta's review and finally made it to the top. It's a hard book to read; I did it in two days, then had a hangover for a week. But it's brilliantly done. Galang intersperses testimonials from the lolas, grandmother-aged women who were anywhere from 12 to 24 when they were abducted, with her own emotional and physical experience both of knowing the women and of re-living their stories with them. Were you inclined to intellectualize, she refuses to let you do it, you have to live it right along with her.
I'm not always able to read the books our freelancers cover, but I like to when I can. Our writers are fucking amazing, and their perspectives are so interesting that I can't resist going to see for myself.
What are you reading next?
I wish I knew. I have two books sitting next to me right now, and one of them is wrapped up in brown paper with a "Phinney by Post" stamp on it — the first of the year. The other is The Correspondence, by J. D. Daniels, picked after a bit of browsing because it looked like it might fit one of my favorite categories: small, personal, surprising books. Physical format, book design, and guesswork . . . It's how I came across Maggie Nelson's Bluets, Sarah Manguso's Ongoingness: The End of a Diary, Denis Johnson's Train Dreams, Scott McClanahan's The Sarah Book. Also incredible curation by booksellers, of course, who I'm pretty sure "force" them off the shelves like cardsharps.