I made a mistake at the very beginning of last night's edition of the Reading Through It Book Club. I accidentally said that David Grann's Killers of the Flower Moon was "not a political book." Of course I misspoke. For one thing, there is quite simply no such thing as an apolitical book, just as there is no such thing as an apolitical person.
But for another thing, Killers of the Flower Moon is nothing but a political book. It's the story of a series of murders in Osage Nation in the 1920s, but it's also the story of how the Osage peoples became the richest people in the world, and how greed brings out the worst in us, and how the story of America is a neverending story of genocide.
I can't stop thinking about one quote in the book, from a contemporaneous report in Harper's magazine about the Osage's newfound oil wealth:
Where will it end? Every time a new well is drilled the Indians are that much richer...The Osage Indians are becoming so rich that something will have to be done about it.
Here we have the American dream made real: sudden wealth legally and fairly delivered to hardworking people. But because the beneficiaries aren't white, the reporter felt perfectly comfortable using the language of menace in a nationally recognized magazine. And eventually, "something" was "done about it." The Osage started dying, in numbers so large that even the newly formed law enforcement division we now call the FBI had to intercede.
Members of the Reading Through It Book Club had a lot of great insights about how Killers relates to our modern era — particularly in the methods that white looters used to attack the Osage. The grifters and murderers understood instinctually that the way to attack and to dehumanize a people is by breaking their families to pieces. These are the same methods that the Trump administration is using on the border today: they're targeting an entire culture by dividing families and othering them while they are weakened and mourning.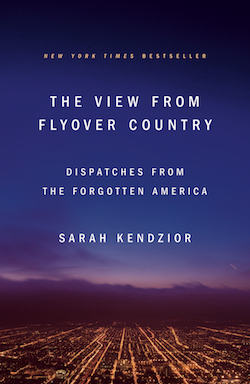 Like the murderers of the Osage people, the Trump administration is looting a culture for their own petty ends, and history will remember those ICE agents and other administration officials with the same remorseless horror that Grann reserves for the villains of Killers. And it's on all of us to bear witness, and to fight as hard as we can to keep those families together, to stop the crime before too many innocents are harmed.
Join us on Wednesday, August 1st, at Third Place Books Seward Park for the next Reading Through It Book Club. We'll be discussing Sarah Kendzior's prescient The View from Flyover Country. The book is 20 percent off at Third Place right now.