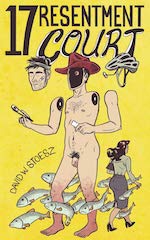 As the one-time author of the
Seattle Weekly's
"Ask an Uptight Seattleite," David Stoesz is a master at ego deflation. His first thriller,
17 Resentment Court
, trains a gimlet eye at Plankton, a Northwest city that takes itself a bit too seriously. Add the irreverent Pope Smith — reluctant flunky, burglar, and murder suspect — and you've got a highly entertaining mix of satire and crime.
In a short essay on writing the book, Stoesz mulls the propriety of writing anything meant to please in this time of political upheaval. But what better time to be pulled outside ourselves, and then take a look back at how silly we are? Check out an excerpt on our sponsor feature page, then pick up a copy of 17 Resentment Court for the holidays.

Sponsors like David Stoesz make the Seattle Review of Books possible. Did you know you can sponsor us, too? We only have three slots left in the first quarter of the year (and we haven't even gone public yet!). Reserve your week of choice before it's too late: Just send us a note at sponsor@seattlereviewofbooks.com.