Every month, Daneet Steffens uncovers the latest goings on in mystery, suspense, and crime fiction. See previous columns on the Criminal Fiction archive page.
Reading around: new titles on the crime fiction scene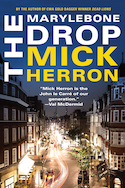 A lovely end-of-the-year treat pops up in novella form with Mick Herron's The Marylebone Drop (Soho), a mini Slough House outing. The slim-as-you-like, 71-page tale packs a powerful punch in Herron's beautifully-choreographed story of retired spies, fixers, handlers, double-agents, and espionage administrators doing their intricate dance in London's mean streets, modest flats, and hallowed political buildings. Herron, no slouch when it comes to multi-layered narratives, also delineates a delicate line where the old world of proper, solid pensions and other financial safety nets meets the new one of vertiginous uncertainty.
The highly entertaining game is most seriously afoot in A Shot in the Dark by Lynne Truss (Bloomsbury). Set in 1950s Brighton – and with wide-open winks and nods to Graham Greene's Brighton Rock a-plenty – Truss' crime-fiction caper packs in a vicious theater critic who is also a critical witness to a years-old crime; a couple of "angry young man"-style playwrights; a woman who can bend bars of steel; a phrenologist; a young but punctuation-perfect reporter; and a clutch of coppers who have about a dozen Achilles heels between them when it comes to solving mysteries. Murder, both cold- and hot-blooded, gangsters, and a suspiciously high number of comforting cups of tea and accompanying cakes make for a quasi-cosy and very funny read.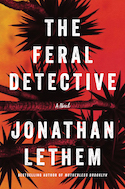 The eponymous detective, one Charles Heist, is not the only feral entity in Jonathan Lethem's The Feral Detective (Ecco). The New York City born-and-bred Phoebe Siegler knocks on Heist's dusty California door after 1) impulsively quitting her lucrative New York Times job after "the notorious day in November when my boss and all the rest of them sat deferentially with the Beast-Elect at a long table behind closed doors, to soak in his castigation and flattery," and, 2) her good friend's daughter goes missing out West. In an openly post-2016-election writing-fury, Lethem sends Phoebe charging across the country and spins a mesmerizing narrative that includes a spot of Fight Club-style action as well as unabashed takes on New York's F train, Leonard Cohen, and Tinder. It's all bit wild, a bit wacky, and downright deeply disturbing in some parts, imparting a hallucinatory, sinister quality that isn't easy to shake, but seamlessly fits with our contemporary territory.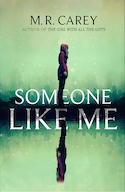 There's a definite other-worldly element humming through Someone Like Me by MR Carey (Orbit), in which recently-divorced mom Liz Kendall draws on surprising physical and mental strengths that feel completely alien to her when, one evening, her husband turns fatally violent. At the same time, Fran, a teen at school with Liz' son, Zac, is undergoing intensive therapy in a bid to recover from a frightening episode ten years earlier. The fireworks start when two slightly overlapping worlds meet and Liz, Fran, and Zac, each in their own way, must confront a reality inhabited by the ilk of parallel worlds, ghosts, daemons, and familiars. A domestic thriller brimming with literal extraordinary life, Someone Like Me will make you look at those derelict, road-side motels in a whole new light.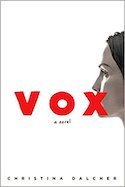 A bit too tidy and a bit too pat, Christina Dalcher's dystopian Vox (Berkley) is nevertheless all-too-creepy for what it all-too-clearly imagines: a ginormous Bible Belt and its inhabitants overtaking the entire country up to the highest order; punishments and authoritarian control that include enforced religious recitations and a rabid creep of Christian patriarchal credos embedded in schools; and a harrowing glimpse into the fact that, robbed of language, young humans miss out on crucial development. A dark, near-future vision indeed, vividly brought to chilling life.
The Quintessential Interview: Katrina Carrasco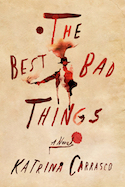 Seattle-based Carrasco's debut novel, The Best Bad Things, showcases the 1887 smuggling haven of Port Townsend, Washington, where ex-Pinkerton detective Alma Rosales thrives in her second identity of one Jack Camp, a bruiser and a brawler with brains. Immersed in the wilds of the Wild West, Rosales/Camp is equally at ease in ladies' boudoirs as she is at a pugilistic competition, and just as eager to seduce ladies as she is her male colleagues. But in amongst the thieves, stevedores, corrupt officials, and local businessmen, she has her grisly work cut out for her in this Puget Sound setting where one wrong turn can bring down an intricate house of cards. Carrasco's vital writing brings to vivid life a world in which life is cheap, opium is a primary currency, and human smuggling is just one of multiple deadly rackets.
Catch Katrina Carrasco at the following local and regional events:
What or who are your top five writing inspirations?
I love writing complex, unpredictable women; once the characters gather critical mass it feels like I'm in conversation with them and they're showing me the way, which is an amazing process. I want a bigger canon of queer literature and I want to be part of creating it. Same for happy stories about queer people. The Pacific Northwest is a great character in itself, and time in the mountains, in the forest, or by the sea recharges me. I'm fascinated by sentence-level sound and syntax: how every line can be a poem, and how those poems can coalesce into paragraphs, and eventually accrete into a book.
Top five places to write?
In bed with a big cup of milky coffee. Seated by a window while it's raining outside. In a cabin on Whidbey Island. Anywhere with a view of squirrels playing in the trees. I've written some of my favorite passages while aboard Washington State Ferries.
Top five favorite authors?
This list is ever-changing, but right now my top five are Cormac McCarthy, Maggie Nelson, Patrick O'Brian, Ali Smith, and Luis Alberto Urrea.
Top five tunes to write to?
I usually pair a single instrumental album to a long writing project. The upside of this is I can play it anytime and mentally drop into the story world; the downside for anyone sharing space with me is I will play the same songs hundreds of times! For The Best Bad Things, I almost exclusively played the Sherlock Holmes soundtrack by Hans Zimmer. I also like his soundtracks for Gladiator and Pirates of the Caribbean. Fat Freddy's Drop's Based on a True Story is a chill album for editing/reviewing time. And I've been listening to Perfume Genius' No Shape while writing a character study for a new project.
Top five hometown spots?
Chocolati Café in Greenwood when it's cold and wet outside. Golden Gardens beach in summer. Raygun Lounge in Capitol Hill (which has my very favorite arcade game, Bust-A-Move). El Centro de la Raza community center. Betty's Body of Knowledge trivia at Solo Bar.