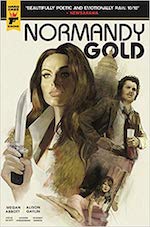 I've written recently about the problem with writing about Hard Case Crime: The publisher so regularly produces quality genre titles that its excellence becomes expected. Hard Case resurrects out-of-print and never-before-published crime and thriller classics multiple times a year, so it's hard sometimes for a reviewer to find something new to say about the publisher.
But Hard Case isn't just about digging up classics of the genre. The publisher has quietly entered the world of comics, too. Last year, they published a graphic novel titled Normandy Gold, written by mystery novelists Megan Abbott and Alison Gaylin. Gold is a tribute to the sleazy sexploitation thrillers of the 1970s, and the book is an absolute blast.
Normandy Gold, a tough small town sheriff, comes to Washington DC when she receives word that her little sister has fallen into trouble. You can tell that Gold is tough because she immediately pulls a giant hunting knife on a smarmy DC cop when he sexually harasses her in the middle of his precinct. In her quest for justice, Gold falls into a world of high-class prostitution and political corruption.
The authors wisely withhold judgement from Gold's actions. She's not interested in being liked, or even being lawful. She only wants to make things right, and several of her choices will leave readers wondering if she's lost her mind entirely. The familiarity of the 1970s setting provides Abbott and Gaylin with the opportunity to overturn our expectations as readers: we think we know the script forwards and backwards, when in fact they're telling a new, and thoroughly modern, story.
Gold is illustrated by Steve Scott, an artist whose work at its best recalls the shadowy realism of 1970s Gene Colan. At times, Scott's art misses some of the moral nuance of the script, and a few of the prostitution scenes tip over into an uncomfortable male gaze, but what's an exploitation riff without a few too many stares?
In Gold, Gaylin and Abbott are bringing a grindhouse film to paper, complete with all the sex and violence and wild plot twists you associate with the genre. But by breaking the formula in a few subtle but important ways, they're adding a fresh layer of complexity to the genre. It's another success story for the winning editorial team at Hard Case.