Every month, Daneet Steffens uncovers the latest goings on in mystery, suspense, and crime fiction. See previous columns on the Criminal Fiction archive page
Reading around: new titles on the crime fiction scene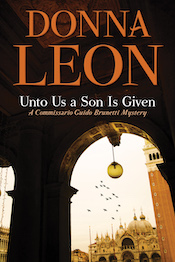 Donna Leon's Venice-based Commissario Guido Brunetti mysteries are rife with musings on the human condition and a rich range of criminal activities, from the most basic petty theft to cold-blooded murder. Unto Us a Son Is Given (Atlantic), the 28th outing for Brunetti, his whip-smart wife, Paola, and his fellow detectives, is redolent, as always, with the sights, smells, sounds, and mealtimes of the water-immersed city: Brunetti uses frequent coffee breaks to mull over his cases, and family dinner time to argue the rights and wrongs of human morality with his chatty children. In Leon's latest, a pleasantly deceptive lull – imposed by contemplative discussions of familial and non-familial obligations as well as a telling reading of Euripides' The Trojan Women – is dissolved with deadly force.
A series of road trips provide just a smidgen of the wild action in William Boyle's A Friend Is a Gift You Give Yourself (Pegasus). When mob widow and Brooklyn resident Rena Ruggiero brains her neighbor with a glass ashtray during an unwanted sexual advance and then flees to her daughter in the Bronx, she implicates herself and a decidedly motley crew of others in an intricate tangle of violence, car chases, terrifying killers, and the edgier sides of familial function. Like tasty breadcrumbs through a sinister forest, Boyle strews his narrative with welcome cultural markers and references — Tom Robbins' Jitterbug Perfume, the Paul Newman of Nobody's Fool, the now-defunct Catskills resorts, Bette Davis in Now, Voyager, champagne that "'tastes like rainbows'" — and more than a little bit of straight-talking philosophy. Boyle's noir novel is an appropriately dark tale of gangster life; it also shimmers with friendliness, affection, humor, and the myriad stories people tell themselves and others in order to survive.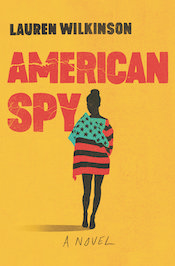 American Spy, a debut novel by Lauren Wilkinson (Random House), tells the story of FBI agent Marie Mitchell and her undercover involvement in West Africa during the Cold War of the 1980s. But it is also about growing up African-American in the 1970s; about the family ties that bind and break; about destructive politics and community-focused advocacy; about the impact of cynicism; about the rejection of that cynicism; and it is about partnerships driven by mutual respect, and parental dotage that is both protective and empowering: "I wanted to form you into agents of change," is one mother's message to her children. Laced within this structured, straightforward tale of espionage and manipulation, is a deeply told tale of love in its many, many facets.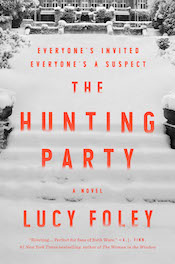 In Lucy Foley's The Hunting Party (William Morrow), a gang of old university friends gather for their annual New Year's Eve holiday – this year's model features a glamo-rustic hunting lodge in the Scottish Highlands – and promptly get snowed in. Also on hand: a lustful Icelandic couple, a morose estate manager, two taciturn workers, and a bevy of shotguns. As the festivities spiral out of control, frustrations and betrayals rear their inevitably disturbing heads. Foley limns the emotional baggage and jealousies that long-time relationships can sometimes harbour, along with, of course, true intimacy and true love. This taut thriller, making canny use of its multiple narrators, also delves pleasingly into the minutiae of the seemingly carefree days and boundless party nights before so-called adulthood hits.
The Quintessential Interview: Elisabeth Elo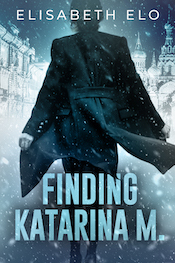 In Finding Katarina M. (Polis), D.C. doctor Natalie March knows her mother's parents' history of being banished to the gulag, where they promptly vanished into that network of labor camps. But then a young woman turns up on Natalie's turf, claiming to be Natalie's cousin: Natalie's grandmother, Katarina, the cousin claims, is still alive in Siberia. More than intrigued, Natalie sets off to a remote part of Russia on a determined fact-and-grandmother-finding mission. Insistent in its twisting narrative, the novel takes a turn into something darker, stranger, and much more terrifying as it unfolds. Luckily, Natalie remains a compelling companion for the startling journey Elo has generated.
What or who are your top five writing inspirations?
Sober people. Particle physics and quantum mechanics because they remind me that there's a great deal more to this world than we can see. My own deepest experiences because I can't express them, which makes me, paradoxically, want to express anything I can. Fairytales for their perfect narrative structure and blunt acknowledgment of evil. Any genuine smile.
Top five places to write?
For serious writing: my desk. For revising manuscript pages: my living room couch or any coffee shop. For early drafts in longhand: my car parked in a shady lot overlooking the Muddy River.
Top five favorite authors?
Edna O'Brien. Edward St. Aubyn. Graham Greene. Shakespeare. W.B. Yeats.
Top five tunes to write to?
I need silence to write. But when I'm getting distracted or I have to do some writing-related task I don't want to do, I listen to jazz piano. My favorite artists are Keith Jarrett and Akiko Grace. Next comes jazz guitar, especially Wes Montgomery and Pat Metheny.
Top five hometown spots?
Coolidge Corner Theatre. Brookline Booksmith for its many author events (and books). Boylston Street because a lot of my life happened there. Pizza Stop pizzeria a block away from my house for its chicken caesar wraps and because it hasn't changed in 30 years (not an exaggeration). The park across from my house where I go every morning with my dog and always end up noticing the sky because there aren't any buildings to get in the way.