Lit Crawl is one of our favorite adventures of the year, more so this year with an extra round of readings (our tired feet!) and two new members of the team on board: Julie Yue, and Mariya Bashkatova joined Dawn McCarra Bass, Paul Constant and Martin McClellan to cover the night this year. Even five of us could catch only a fraction of the incredible talent on display — in a single night! — but we did our noble best. Kudos to the Lit Crawl organizers for continuing to make this event bigger and better, a landmark moment in the literary year.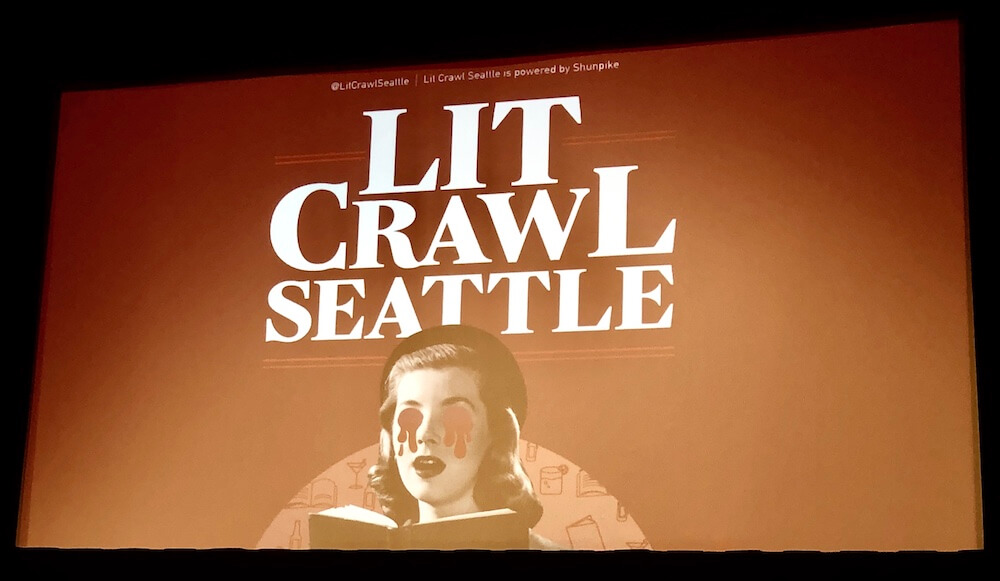 Phase 1: 5:00 p.m.
"A woman's work," Intrigue Coffee and Chocolate
It's a gift to start Lit Crawl at a coffeeshop, the oldest-school place for words to be read out loud. And it's a tribute to the Lit Crawl organizers that the not-small room at Intrigue (really! It's huge!) was crowded at 4:45 with people eager to start the night.
Mineral School — the residency program founded by Jane Hodges — is well known to Seattle Review of Books readers. We loved seeing Hodges read her own work after supporting so many other writers. The excerpt she read from a memoir in the works, a piece on an aging relative's loss of cognizance, was poignant but not mawkish, wry but not silly. Taking care of the dying has, indeed, always been women's work.
In a set of readings on women and work, there is no avoiding the unpleasantness of men in the workplace. For Kristen Millares Young, it was the A1 editor, one of a series of men to mistake her self-possession for an invitation to possess. Millares Young is one of the best readers in Seattle; her voice is strong and warm and carries anger and humor equally well. She's also one of Seattle's best essayists, producing rich, thoughtful, human work time and time again. You can read "Every Woman Keeps a Flame Against the Wind" in Proximity Magazine. If you have the chance to hear her read this, or anything else, aloud, take it.
The lovely surprise of the reading (we expected good things from both Hodges and Millares Young) was Jean Ferruzola, who we hadn't heard before. Ferruzola is a quiet reader, so everybody got quiet to listen. Her writing is personal, funny as hell, and incredibly smart. "Sadness can be a problem of narrative," she said, before relating a painful story about a man in power who asked for something he shouldn't have. Ferruzola captures exactly how the shocking, arrogant persistence of such a request can lead to surrender — and how violation can become the author of a woman's story.
Stinky and Spooky with a Side of Magic at the Capitol Hill branch of the Seattle Public Library
One member of the audience stole the author's book right off the reading table at the Capitol Hill branch of the Seattle Public Library. He ran away with the book, cackling. Another member of the audience disrupted the reading with raucous laughter when the author read the word "butt." Nobody in the audience even blinked. The authors were used to this kind of lawless treatment, and even seemed to enjoy it.
These three local children's authors kept things relaxed and fun for the children in attendance. Donna Barbra Higuera enlisted her fellow authors in a scripted reading from her upcoming picture book about El Cucuy (which, Higuera explained, is "The Mexican boogeyman," who is "much scarier than the American boogeyman.") Mark Maciejewski read from his second book in the "I Am Fartacus" series, Electric Boogerloo — his was the reading with the celebrated "butt" in it — and Kim Baker presented her upcoming middle-grade novel The Water Bears, about a boy who survived a bear attack. Every Lit Crawl should begin with a reading where members of the audience feel comfortable enough to lie on the floor and giggle openly.
Y-We Poetry Reading at Northwest Film Forum
What a great way to start the night, listening to three artists near the start of (what we hope will be) a lifetime of explorations — all three presented with the cool confidence and self-awareness of more tenured writers.
Lucia Santos was first, reading a series of poems, including one titled "Poems my Notes app rearranged". She spoke of wanting to write about the world "on a more abstract level" and had some wonderful imagery in her work.
Azure Savage, who recently came out as trans-masculine, wrote You Failed Us: Students of Color Talk Seattle Schools with the intention of causing "systematic change in education". They interviewed forty students of color, all of whom attended Seattle Public Schools at one time or another, about their experiences. Savage said the perspective of students of color is the one they wanted to share most, because that is the perspective that gets heard the least. They collected the interviews, and then used the themes that emerged as chapter groupings. They talked about the book reaching people in power who are listening — the entire project an astonishingly mature and capable approach, both art and journalism, in working to enact change.
Robin Hall's project was more inward facing: she explored self-hatred and body image, how there were many places she could go where people would tell her to love herself, but none where she could honestly express the negativity she carried — the feelings she felt she needed to step through before finding that self-love. She is interested in "systematic change in how we view our bodies.". Like the other two Y-We alumni, she showed up, tackling personal, difficult issues with impressive vulnerability.
Y-We stands for Young Women Empowered. The group offers multiple programs for diverse young women, including a writing retreat camp.
Phase 2: 6:00 p.m.
"Playing with Dough" at Elliott Bay Book Company
Has there ever been a better combination than books and baked goods? Yesterday's talk paired gluten-free gougères, gluten-free banana bread, and (gluten-rich) pasta crackers with a panel discussion by cookbook authors Jeanne Sauvage, Linda Miller Nicholson, and Aran Goyoaga.
Cooking is so personal and ritualistic, and these three authors are all invested in the way that food is inextricable from our family histories, our childhoods, and our sense of comfort and home. This relationship is especially evident when you develop a food allergy or intolerance and suddenly need to rework beloved family recipes.
Jeanne Sauvage, author of Gluten-Free Wish List, said she had to "learn new ways of eating and connecting with heritage" after she developed a gluten intolerance and could no longer eat the same foods she'd been enjoying since childhood. Her book focuses on tweaking classic baked goods to make them gluten-free while keeping their nostalgic and familiar flavor.
Linda Miller Nicholson said her mission is to "bring joy to people through food" and also to sneak some vegetables into her child's pasta, so her new book, Pasta, Pretty Please, is a kaleidoscope of rainbow pasta enhanced with vegetable purees. Her bright stage presence matched the colorful pasta, and I believed her when she said she's made pasta by hand at least once per week since the age of four. She also has great tips for cooking pasta, including a recipe for the appropriate salinity of pasta water that was almost too titillating to include in the cookbook.
Blogger, food stylist, and photographer Aran Goyoaga spoke about her food journey: from a child growing up in a family of chefs, to a young person living with an eating disorder, to an adult returning to cooking as a source of healing and nourishment. Her cookbook, Canelle et Vanille: Nourishing Gluten-Free Meals, grew partly out of her writing about her past and family traditions in the Basque country in Spain.
This is one reason we buy cookbooks — not just to learn a recipe (there are more expedient ways of doing that) but to learn someone's story through food and to step into a world where all the china matches (or is artfully mismatched).
"COAST|noCOAST issue 2 release" at Vermillion
The joy of a journal reading is the mix of voices and genres, trying to find the aesthetic throughline while enjoying the differences. COAST/noCOAST is a new journal, only in its second issue (release to come in December or January), but its editorial voice suits the stage. First- and second-person readings by Alayna Becker and prose editor Katie Lee Ellison went immediately to the hairline crack between personal and political; Ellison's piece, which centered on her Jewish father's swastika-imprinted rug was particularly compelling.
Erich Schweikher, also co-editor, read a mix of work — his own, and poet (and third co-editor) Charles Gabel's. Schweikher said he's been writing the same poem for 20 years, and has finally given in to it; you could hear the way those years have worn some edges off and sharpened others in his verse: words and sounds bouncing against each other with a casual skill. It's interesting to hear one poet read two poets' verses. It brings out the style of each more strongly. Or maybe that's just a tribute to the poets' strength, to hear both voices so clearly even when spoken through the same throat.
The Seattle Review of Books is an unabashed fan of Mita Mahato's work — those delicate but unfragile poems cut out of paper. Kudos to Vermillion for accommodating the screen that allowed her to combine reading with a slideshow of the collages that are essential elements of each poem. Only Mahato could write about "the planet as a square of blue paper in a rectangle in a comic strip" while punning about flat-earthers and transforming Blake's Tyger into a tiger-headed robot.
Mahato is working on a short, gorgeous, and heartbreaking series of images on the changing boundaries between humans and other animals, hopefully ready for Short Run. Not ready for Short Run but now eagerly anticipated by everyone in the audience: a visual sonnet sequence, based on her residency in the Norwegian Arctic, in which a polar bear serves as her Petrarch's Laura. "The sonnet is a form that necessarily deals in puzzles," she said, and climate change is a puzzle she won't let go of. If only poets, and comix artists, could be president.
Seattle Youth Poet Laureate cohort at the Capitol Hill Branch of the Seattle Public Library
"This one's for my mom, but if any of you moms out there can find something in it, maybe it's for you," announced a poet whose name we didn't catch at the Youth Poet Laureate cohort reading. Based on the poems we heard, there are a lot of proud mothers out there. Maia Pody read about fingernails as symbols of beauty standards and also carriers of dirt that stays with us, just under the surface and impossible to fully clean. Marina Chen read a poem about expectations and obsessions written to another: "you, the reason there's chocolate on my cell phone." Seattle Youth Poet Laureate Wei-Wei Lee read a poem to her friend Gabriel, "who isn't here today, but that's okay because I could never say this to his face." It was a poem about a car ride fraught with emotions, about steeling your voice to feel confident and squeezing feelings of inadequacy into something smaller and easier to manage. The poems were raw and exploratory, bouncing off each other and works of art — Chen references The Little Mermaid; another poem responded to All the Light We Cannot See. It's the kind of reading that reminds you why we love poetry when we're young: because it's how we make sense of the world and explain ourselves to ourselves.
The Poet Salon at Northwest Film Forum
A live podcast recording during LitCrawl! The Poet Salon hosts Dujie Tahat and Luther Hughes (usual third host Gabrielle Bates couldn't make it tonight because of travel) interviewed Natalie Scenters-Zapico. New to the area, Scenters-Zapico is Poet in Residence at the University of Puget Sound, and her most recent book Lima :: Limón was released in May by Copper Canyon Press. (The title comes from the Concha Piquer song "A la lima y al Limón", a cautionary tale about a thirty-year old unmarried woman. The children who live near her look up at her window and caution each other not to be like her. Thirty! Unmarried!)
Scenters-Zapico read three poems and answered questions from Tahat and Hughes, talking at length about growing up in the twin cities of El Paso/Juarez during the rise of the drug wars. The conversation ranged from writing about the desires and physicality of the body to watching her home towns become a "test-tube for modernization"; how femicide was a common context during the violent years, and what it's like to grow up on the border, surrounded by fliers for missing women. "The documents of death," she called them. "The documentation of brutality."
"We must be careful how we perceive border spaces", she said, tying together events in Juarez to missing indigenous women in America, where reservation land often abuts oil industry fracking and remote areas. She spoke to how no one in our country pays attention to these women disappearing, and how wrong that is. We must be careful how we perceive border spaces; we need to pay attention to border spaces.
Scenters-Zapico's poetry is absolutely sublime — you'll be able to hear for yourself when the episode is released, although picking up her book in the interim would find you richly rewarded.
Phase 3: 7:00 p.m.
"Haunted by Heartbreak" at Ollie Quinn
Desire, grief, and heartbreak were the ghosts of the night, though the light wood decor and hanging pothos plants of Ollie Quinn are less "haunted house" and more "Swedish coffee shop." Jessica Mooney, an SRoB contributor, opened the event with a lyrical essay from her just-released chapbook, Parting Gifts for Losing Contestants, illuminating a tangle of miscommunication, loss, and language breakdown in a relationship. "I don't know how to say what I mean," she read. "Taxonomy remains mysterious."
Poet Keetje Kuipers's performance made me want to immediately go out and buy all of her poetry collections. She opened (appropriately for the spooky theme of haunting heartbreak) with "Finally," a poem about sex in a cemetery, which intertwined lust and love with death and featured the indelible description of cartilage grinding into "dust finer than the finest semolina flour."
Kuipers described one of her collections, The Keys to the Jail, as "the saddest book that's ever been written," and it's true that the poems she read carry heavy emotion. The past is constantly flitting in and out of them, mingling with the present and continuing to haunt the living. In "Told You So," from her newest collection, All Its Charms, she described using the old boxers of "the man I thought I'd marry" to clean up her daughter's orange juice spill. In the same piece, she recounted crying on the shoulder of a former lover before going to a clinic with the intention of getting pregnant, "worried that whoever I loved next would never know my body when it was beautiful." The room was silent while Kuipers let the line sink in. "How could I have been wrong about so many things?" she finished, to a hum of agreement from the audience.
We also got to hear a new piece from Anne Liu Kellor, memoirist and creative writing instructor at the Hugo House. In the candid and open essay, she explored having a crush on a carpenter while dealing with some reverberations from her husband's long-ago unfaithfulness. Kellor connected with the room and created a warm environment and some big laughs.
Poet, writer, and disability justice activist Leah Lakshmi Piepzna-Samarasinha was unfortunately not able to attend the event, and we missed her.
Apocalypses Now at Bauhaus Coffee
Woodinville author Alexandra Oliva noted that her first novel, The Last One, was a post-apocalyptic story about a reality show colliding with the end of the world, and so it would have been perfect for the apocalypse-themed reading at the new Bauhaus Coffee space on Harvard Ave. But she's almost done with her second novel and in another place mentally, so she read a new piece about the emotional desolation of a new city. There are always more than enough apocalypses to go around, after all.
Jennie Melamed's apocalypse was a fantasy story, about a badly burned knight warning his kingdom that a dragon was swiftly approaching. Ruth Joffre read poetry about rising seas and selections from a novelette about people obsessing over sour candy and ice cream cake even as a virus mercilessly wipes humans off the earth. It's appropriate that Joffre offered calamity by multiple choice: No single apocalypse is enough for one person. When it comes to the end of the world, we each contain multitudes.
Hedgebrook reading: Strangers in a strange land at Capitol Cider
Ah, Capitol Cider. One of the favored Lit Crawl destinations — full-service food and drink! Also one of the loudest, with at least half the room there for the cider and the other half for the words. But the mic was good and strong, and the readers cut right through.
Kathleen Alcala kicked off the session with her piece "Strangers in an estranged land", tying her Spanish-Jewish history to early immigration, when Spain made it clear to Jews that their choices were to convert, to get out, or to die. "Being persecuted does not make you a saint," Alcala said, pointing out that "life, as long as it was somebody else's, was cheap."
Wendy Call spoke of visiting Bogota, Columbia, and meeting an artist named Daniel who brought her to a mural he made, showing nine people who were victims of the violence and drug wars. "I need to clean it," he told her, "wiping his hand along the mural and looking at the dark ghost on his fingers."
Ellen Forney showed that her humor and spirit are just as sharp when not paired with her wonderful comic art. She spoke of crying in public and the things she does to avoid it. One part of the story involved eavesdropping on a metalhead and his mother in a movie theater as they chatted about song names. She also recommended looking up the mammalian diving reflex, in which immersing your face in cold calms your body. There is, of course, just the option to let the tears fall in public and not worry about how people might react — but a good story needs a tension point, and Forney found plenty of humor around finding your cheeks wet when, perhaps, you feel ashamed that the context might not warrant the expression.
Phase 4: 8:00 p.m.
"Making of Seattle" at Elliott Bay Books
While many LitCrawl events focus on a host of writers sharing poetry and prose around a single theme, this final food event at Elliott Bay Books dove deep into the process of writing a cookbook with one author, Julien Perry. Her newest cookbook, Seattle Cooks, shares quintessential recipes from forty local chefs. In conversation with food writer and author Kathleen Flinn, Perry describes how she managed to wrangle forty restaurant chefs into trading their food scales for measuring cups.
"It was a nightmare," said Perry, about convincing restaurant chefs to translate their dishes for the home cook. Unlike the film Ratatouille, chefs don't keep a trove of recipes in a robust card catalog. Their staff learns simply from watching them make it. What's normal for a chef – working with vast quantities, long lists of specialty ingredients, smoke guns, sous vide machines – is far beyond what even the most ambitious home cooks are ready for. One grilled octopus dish had so many components that the first iteration of the recipe was a full seven pages long. The editorial process was just as arduous — five rounds of editing, five rounds of copyediting, and then multiple rounds of proofs. Pro-tip: don't leave the recipe testing to the last minute!
This was an unrivaled opportunity for anyone who has ever wished to write a cookbook. Kathleen Flinn shared insights on how the genre has changed in the era of online personal branding. Keyword search has allowed niche cooking to become viable. The visual tyranny of Instagram has changed the economics of book publishing — the cost of full-bleed color photographs is now a necessary expense.
A final delicious perk: there was so much food from whole evening! Sockeye salmon and gingery noodles, still more gougères, chewy snickerdoodles, and chili from Jack's Barbecue, one of the restaurants featured in the book.
Surreal Storytelling with Strange Women at Corvus & Co.
This special Lit Crawl edition of the popular reading series — inspired by the works of authors like Aimee Bender and Alissa Nutting — was a high point of our evening. Series host and curator Kate Berwanger's piece, a creepy, gorgeous short story about a woman whose body and surroundings begin to turn into plant matter, probably hewed closest to the idea of "surreal fiction." But Vivian Hua's "true story" of a man who decided to drive to California based on the demands of Tupac's ghost was charming and fun, and Kate Bernatche's macabre story about cannibalism was such a gutsy choice (sorry — the pun was unintentional but we're keeping it) for a restaurant serving burgers and chicken wings. Jalayna Carter's poems about labyrinths and headscarves and coats named Sheba were so exuberant that only a true pedant would complain about the readers meeting, or not meeting, the dictionary definition of surrealist literature. It was a powerful showcase, with a variety of talent sharing the work they're most excited to share right now — in other words, what Lit Crawl is all about.
Failing Gracefully with Friends at Capitol Cider
Kilam Tel Aviv hosted this block, introducing his two co-readers before coming up for stage time himself.
Aviona Rodriguez Brown brought a trained theatrical presence, physicality, and vivaciousness to her storytelling. She talked about her Afro-Latinx history and how it differed from her siblings'; about recognizing the moment where she first saw her blackness reflected by people and became truly aware of her color.
Jamaar Smiley followed, with a performance of two of his jaw-dropping works — infused with beat, hip-hop, and complex rhyme-schemes that, at times, echoed Neo-romantic cadence, Smiley's work explored themes of racial identity through metaphors of the natural world, including that most Northwest-y of fish, the salmon. His vivid images came rapid-fire, creating a sense that you are riding a wave of images — you're just just catching one allusion as he drops a second or third, your brain barely keeping up with his. Truly astonishing work — and, amazingly, he performed both very long pieces from memory. Highly recommended if you get the opportunity to see him perform.
Then Tel Aviv was back up, bringing home the theme of failure. He read from a chapbook where he asked local artists and creators to answer questions about how they approach their work and then paired those pieces with poems that, he said, "failed" — or, that were rejected by publications. He read slowly and seriously, taking time to let his poems land, before the punchline of rejection. A fun concept, well put together. It was nice to hear it performed.
Phase 5: 9:00pm
"Scary Stories to Tell in the Bar" at The Pine Box
Due to technical failure (see "Biggest Regret") and ensuing scrambles, we missed the beginning of Darkansas author Jarret Middleton's reading — which surely would have spooked us to the bone. But what we did hear was two hilarious takes of horrific-but-not-quite-horror stories from New York author Chavisa Woods and short story author and screenwriter Ramon Isao.
Woods read from the eponymous short story of her collection Things to Do When You're Goth in the Country, the wry interior monologue of a queer goth having a hell of a hard time in the Bible Belt. One of the must-do's: "I would highly recommend a non-consensual, surprise Southern Baptist exorcism." But you have to prepare to do some legwork before your friends and family will conspire against your soul. For example, go to Bible study dressed like you're going to "kill a Marilyn Manson concert" and read aloud from Old Testament passages about gruesome child sacrifice. Death is everywhere in the country, Woods finished, "all we love is ourselves, all we kill is ourselves."
Death and religion also reared their heads in Isao's chilling imaginary about our dystopian future. A father takes his son to see the last tree in the world, as he did when he was a boy. Having never seen a tree before, his son is less than impressed: "It's just a big stick, Dad!" This atmospheric, sarcastic short story tells of a brave new world where climate change has turned everything into a desert, greenery worship is now a religious cult, racial segregation is real again, and AI learned to write music that made people cry. His world felt strange and harsh, yet so, so familiar.
The long, dim cabin of the Pine Box made the perfect setting for these genre-bending readings. As people piled in with jugs of ale and listened to the violent ironies of our old religions and bittersweet predictions of our future, you can't help but feel like this was a scene that's happened so many times across so many millennia. We're still just a bunch of big-brained apes who learned to tell each other stories, again and again, in new and different ways every time.
Writing Against the Body at Ada's Technical Books & Cafe
The quick walk up the hill was brutal — why, oh why, are the events so far apart! — but the promise of these four poets made the choice an easy one.
Previous Seattle Review of Books Poet in Residence Abi Pollokoff hosted the evening, first introducing Laura Titzer, who beyond her lyrical and engaging poetry, is an artist and community food organizer.
Laura Wachs was up next, reading work questioning her unknown birth mother, wondering about the connections and thoughts she is unsure if they shared. Other pieces about recovery from eating disorders were raw, visceral, and very real: a confrontation and a naming.
Joyce Chen said that "I write about how time exists in the body" — she spoke of how her mother, and the immigrant's dilemma of wanting a parent who is American and local, but who doesn't sever the connection to history and the past.
Abi Pollokoff closed the night — and Lit Crawl, for those of us who picked this as the last venue. She read from a series of new work that she called "a feminist eco-poetic." Pollokoff is a present and powerful reader, using rhythm and repetition to bring moving waves of emotion to her pieces. It was great to see her give voice to some of the white space she uses to keep words apart (and together) on the page — a kind of concrete melodiousness that evoked something of songwriting for me, as if she started with a melody and stripped everything that rhymed too close until it was just the cadence of words.
Weed the People at Rachel's Ginger Beer
"So this is my first time doing theater in the round," Leila Marie Ali joked at the beginning of the Weed the People reading. Rachel's Ginger Beer on 12th Avenue, it must be said, is a terrible venue for a reading. The ceilings are high and a few of the customers are very loud assholes. But the Lit Crawl crowd — ever troopers — are used to making do with non-typical readings venues. We circled around the readers to listen to them talk about their relationship with marijuana.
Ali, for instance, is a tour guide at the Herban Adventure Tour. "Now I'm like the Weed Queen but, full disclosure, my tolerance is very low," she joked before launching into an epic poem about the history of marijuana prohibition. Ahnya Smith, founder of the Colored Cannabis Collective and host and curator for the evening, said she was floored the first time she saw Ali read her work, and it's easy to see why: she's charismatic as hell, prowling the floor and drawing the audience in.
Smith, Ali, and poet Nadia Imafidon made the political theme of the evening a personal one, talking about what it means to be Black women trying to take back cannabis culture from the white people who criminalized it and are now gentrifying it. Imafidon's poem about being told to "take a breath" when she expresses her displeasure says it all: in certain venues, a woman of color simply isn't allowed to be herself. So there's a special kind of joy in these women carving a poetry venue out of the middle of an obnoxiously loud bar, demanding the space and the attention they deserve. As a symbol of the world the authors were aspiring to build, it was just about perfect.
Biggest Regret of the evening
Due to a Google Maps mishap, one of us ended up eight blocks south of Bauhaus Coffee at 9:07 p.m., and couldn't make it to "Winter in America" to watch Robert Lashley, Christopher Rose, and Paul Hlava Ceballos share their poetry inspired by jazz poet Gil Scott Heron. What a miss — we're sure it was phenomenal! We'll catch you next time. (Bauhaus — update your Google Maps address!)