Over Thanksgiving weekend, shoppers at the downtown Barnes & Noble in the Pacific Place mall were greeted at the downstairs entrance with a large sign. "This Barnes & Noble is closing on Janauary 18th," the sign reads in large letters. Below that, it continues, "Thank you for your patronage over the past 22 years." The sign also directs shoppers to the chain's Northgate location and the Barnes & Noble website.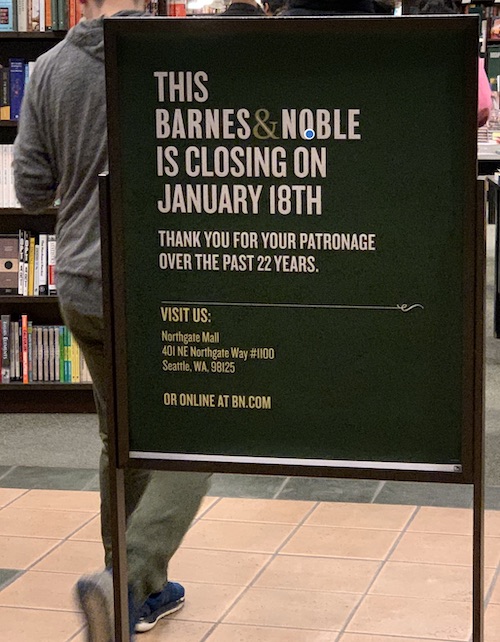 The announcement probably shouldn't come as a surprise. In addition to Barnes & Noble's well-documented corporate decline, the Pacific Place mall downtown has been suffering from closures, empty storefronts, and a massive remodel that has left the space virtually gutted for months. Combine that with a weak retail climate for brick-and-mortar stores, and the closure practically seems inevitable.
Still, this is a big moment in Seattle bookselling. When the downtown Barnes & Noble closes, there will officially be no bookstores in the downtown retail core. (The downtown Seattle flagship of Barnes & Noble's closest competitor, Borders Books and Music, closed when the chain went under in the summer of 2011.) While there are quite a few bookshops in surrounding neighborhoods like the Pike Place Market, Pioneer Square, Capitol Hill, and Queen Anne, this will be the first time in decades that shoppers won't be able to browse the stacks of a bookstore without leaving downtown Seattle.
This is not the only recent local closure for the flailing bookselling chain. In January of this year, the West Seattle Barnes & Noble closed, leaving no new bookstores in West Seattle for most of 2019. (Just a few months ago a beautiful independent bookshop called Paper Boat Booksellers opened on California Ave, filling the gap that Barnes & Noble left in the West Seattle bookselling scene.)
The Northgate Barnes & Noble listed on the sign as an alternate location for shoppers is going through its own retail apocalypse of sorts: the Northgate Mall has largely been sealed off from the public during a massive reconstruction project, with a half-empty food court at one end and a meager few shops at the other. Anchor stores like Nordstrom and J.C. Penney have abandoned Northgate, likely putting that Barnes & Noble's future in peril, too.
According to the chain bookseller's own website, there will be 10 Barnes & Noble stores within 50 miles of Seattle once the downtown location closes, including the Northgate store, the downtown Bellevue location, and a store near the Westfield Southcenter Mall.