Every week we ask an interesting figure what they're digging into. Have ideas who we should reach out to? Let it fly: info@seattlereviewofbooks.com. Want to read more? Check out the archives.
Peter Zheutlin is a Massachusetts based journalist and author. Before writing full time, he was a lawyer, a professor, and Public Affairs Director of the International Physicians for the Prevention of Nuclear War. Of his eight books, his focus lately has been on dogs and their relationships with humans. His latest, The Dog Went Over the Mountain: Travels with Albie: An American Journey, is a road-trip story inspired by Steinbeck's Travels With Charlie. Zheutlin is in town, today, reading at the Lake Forest Park Third Place Books, starting at 6:00pm.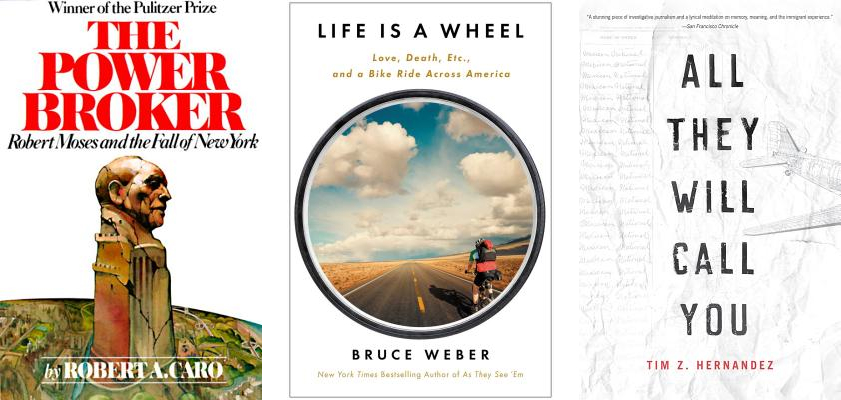 What are you reading now?
Right now I am reading The Power Broker: Robert Moses and the Fall of New York, by Robert Caro (famous, of course, for his multi-volume biography of LBJ). It's a daunting 1,100 pages, but Caro is a great storyteller.
What did you read last?
I just finished, Life is a Wheel: Love, Death, Etc. and a Bike Ride Across America by Bruce Weber. Weber is the recently retired, legendary NY Times obit writer. I picked it up because a couple of weeks ago, as part of the Times "Overlooked" series (obits, mainly about women and people of color, who were overlooked by the Times in their time), Weber wrote an obit about the subject of my first book, my great-grandaunt Annie Kopchovsky (better known as Annie Londonderry) who circled the world by bicycle from 1894-5.
What are you reading next?
Next up, I think, is All They Will Call You by Tim Z Hernandez. It's about the 1948 plane crash in Los Gatos Canyon (CA) of a plane carrying 28 deportees, all Mexican farm workers) back to Mexico. The crash became the subject of the Woody Guthrie song, "Plane Wreck at Los Gatos (Deportee)."