MONDAY Start the week off with some librarians at a Bookish Happy Hour at the Diller Room. This is part of Seattle Public Library's Booktoberfest program, which brings librarians, beer, and you together in non-traditional venues.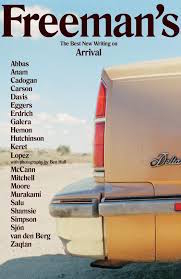 TUESDAY
I've been looking forward to this for months now:
at the Seattle Public Library
, I'm participating in an event with
Colum McCann and John Freeman
. McCann, of course, is a beloved novelist who manages to span that widest of chasms: he writes — gasp! — bestselling literary fiction. His newest collection is titled
Thirteen Ways of Looking
, and it contains a novella and three short stories, touching on security and our modern panopticon of a society and also heartbreak, because you can't have a McCann story without heartbreak. Freeman is well-known in the publishing industry: he was editor at
Granta
, he's a noteworthy literary critic (which makes him as rare as mermaid's tears), and now he's starting a new magazine called
Freeman's
, which presents new work based on a theme. The first issue is centered around the idea of "Arrival," and it features talent like McCann, Haruki Murakami, Louise Erdrich, and Dave Eggers. This is an explosive debut for a literary magazine, and this event should be a lot of fun.
But of course, because I'm involved in that event, I'm naturally biased. So allow me to present an ALTERNATE TUESDAY event for your edification. At Town Hall Seattle, Jack Nisbet will appear in conversation with John Marzluff, a professor of wildlife science, and geologist David Montgomery. Nisbet's newest book Ancient Places explores the relationship between the landscape and the culture of the Pacific Northwest,.
WEDNESDAY The WordsWest Literary Series will happen at C&P Coffee Company in West Seattle. This is a monthly reading series that brings new and established talent to a neighborhood that doesn't see very many literary events. Tonight's readers are KUOW journalist Ruby de Luna, who has reported on immigrant communities and health care, and Stephanie Timm, an author who recently wrote a play titled Tails of Wasps and co-authored an adaptation of The Ramayana with Yussef el Guindi.
THURSDAY Obviously, you're going to Lit Crawl Seattle. This is not optional.
FRIDAY Elliott Bay Book Company hosts two novelists who have been published by the wonderful publisher Akashic Books. Joe Meno will read from his new novel, Marvel and a Wonder, which is about a farm, horse-racing, and family. Nina Revoyr's new novel Lost Canyon is about four backpackers who go on a trip that finds them outside of their comfort zone.
SATURDAY University Book Store presents a special reading with Seattle author G. Willow Wilson and writer Margaret Stohl. They'll be signing their new books: Wilson's latest comic is A-Force, which features an all-woman team of superheroes, and Stohl recently published a young adult novel starring the Marvel character Black Widow. While mainstream comics is slowly opening up to women, it's still a predominantly male-dominated field. This is a rare chance to meet and talk with two women who have made names for themselves and thrived in that industry. Go show them some love.
SUNDAY Hugo House hosts a reading from Floating Bridge Press chapbook winners. Every year, great local publisher Floating Bridge Press sponsors a contest that finds a new poet and publishes their work. This year's winner is Michael Schmeltzer, who will read from his chapbook, Elegy/Elk River. (He's also got a book coming out soon from Two Sylvias Press.) Several finalists from the contest— Maya Jewell Zeller, Brian Cooney, and Linda Malnack — will also read. This is a great chance to see some new poets do their thing; you'll likely be seeing these names around town for years to come. Why not get a head start tonight?