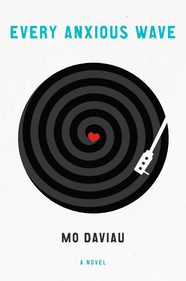 MONDAY
Elliott Bay Book Company
kicks off your Week in Readings.
Mo Daviau
reads from her debut novel, which is titled
Every Anxious Wave
. Kirkus described it as a "punk-rock-time-travel story for the ages." It's about a person who finds a time-warp in his closet, which he then leases out to people so they can go back in time and watch their favorite bands play.
TUESDAY Beloved Seattle young adult author Sean Beaudoin debuts his new short story collection, Welcome Thieves, in a release party at Hugo House. Beaudoin promises "Music, cheap booze, a slideshow. Not the usual routine." Welcome Thieves is his first book for adults.
WEDNESDAY It's time for a big name: Jon Krakauer reads at Town Hall. His latest, Missoula: Rape and the Justice System in a College Town, is about the sexual assault epidemic on college campuses around the country. Have you seen this video of Krakauer shutting down a questioner last year? It's very worth your time:
THURSDAY Tonight, Seattle Review of Books cofounders Martin McClellan and Paul Constant will present our book club picks at the beautiful Bainbridge Island bookstore Eagle Harbor Book Company. We invite you to come talk books with us.
But because we always offer additional events when there's an SRoB-related happening, your ALTERNATE THURSDAY event is the very last Cheap Beer and Prose at the old Hugo House. It's quite a lineup, too: Mattilda Bernstein Sycamore, Hanna Brooks Olsen, Jessica Mooney, and Jason Schmidt. This will be your last chance to buy $1 PBRs from the Hugo House bar. Make it count. (By "make it count," I mean "drink until you start sobbing and clutching a column in the Hugo House while vowing to never let it go," obviously.)
FRIDAY At the downtown branch of the Seattle Public Library, Dr. Damon Tweedy will read from his new book, Black Man in a White Coat: A Doctor's Reflections on Race and Medicine. We know that African-Americans receive very poor health care in this country, but up until now, I'm not sure that anyone has really explored, in-depth, how people treat our African-American health care providers. This looks fascinating.
SATURDAY The African-American Writers Alliance group reading has become a tradition at Elliott Bay Book Company; the reading started over two decades ago, and it moved to Capitol Hill with the bookstore a few years back. Tonight's readers: Alliniece Andino, Margaret Barrie, Jaye Ware, Gaylloyd Sisson, Minnie Collins, Lola Peters, Monique Franklin, Santiago Vega, Helen Collier, and event organizer Georgia S. McDade.
SUNDAY Celebrated tiny comic convention Exterminator City returns in a new location: Ballard's Push/Pull, at the corner of Market & 24th. About two dozen Seattle cartoonists will be around to sell and discuss their very latest books.