Last weekend's 39th annual Norwescon, as per usual, was the most fun a human being could possibly have in SeaTac. The sci-fi convention never fell for the media bombast and glitz that comic book conventions became enchanted by a decade ago; it's always been a convention for fans and by fans, which means it's a rare opportunity for writers and readers to get together in a low-stress, friendly environment.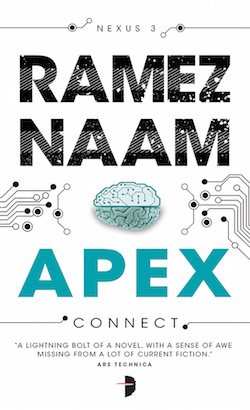 The belle of the ball this year was Seattle author Ramez Naam, whose novel
Apex
won the Philip K. Dick Award
at the convention.
Apex
is the third and final book in Naam's Nexus trilogy — the others are
Nexus
and
Crux
— which centers around a nano-drug that telepathically links human beings. Naam is a central figure in Seattle's up-and-coming sci-fi scene. He was one of
three Seattle authors shortlisted for the award this year
, and he humbly gave acknowledgements to the other Seattle authors who were nominated whenever convention-goers congratulated him for his win.
The 40th Norwescon will happen over Easter weekend of 2017. If you're a local sci-fi fan or author and you haven't attended, you should save the date. There's a whole community out there just waiting for you to join.