As we've mentioned, tonight is the very last Cheap Wine & Poetry event at the Hugo House. This is our pick for the best event of the evening; CW&P is a consistently great event, and this is its last time on the Hugo House stage before the House is demolished later this year. Further, the future of CW&P — and the answer to the question of whether CW&P even has a future — has not yet been announced. It's a milestone!
But I wanted to tell you about two other great events happening tonight, because it is an unusually jam-packed Thursday night in literary Seattle.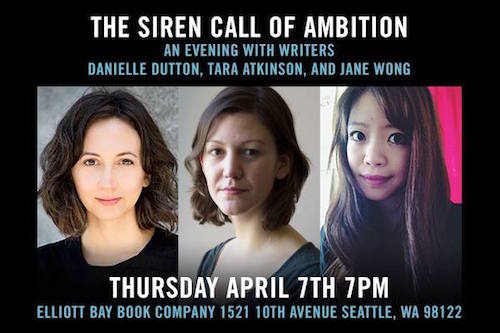 At Elliott Bay Book Company, Danielle Dutton, Tara Atkinson, and Jane Wong will read at 7 pm. Atkinson is a co-founder of the APRIL Festival and she writes excellent short fiction. Wong is one of Seattle's best poets. We've published two of her poems here at the Seattle Review of Books. And Dutton is the publisher of Dorothy, an indpendent press that publishes great women writers. She's also the author of Margaret the First, a novel about a writer in 17th century England, when women were basically not allowed to be writers. This looks like it'll be a spectacular evening.

And at Third Place Books Ravenna, three Seattle poets are reading: Natasha Moni, author of The Cardiologist's Daughter; Erin Malone, author of Hover; and Michael Schmeltzer, author of Elegy/Elk River and Blood Song. (Malone published a great poem titled "Time Capsule" here at the Seattle Review of Books a few months ago.) This is a high-quality lineup of wonderful Seattle poets celebrating National Poetry Month in one of our most charming neighborhood bookstores. What's not to love?
Every week, I go through all the upcoming events to find one literary event per evening to recommend to readers of the Seattle Review of Books. Most nights, I have to decide between at least two cool-looking events. Tonight, there were three. Which one are you going to? Choose wisely.