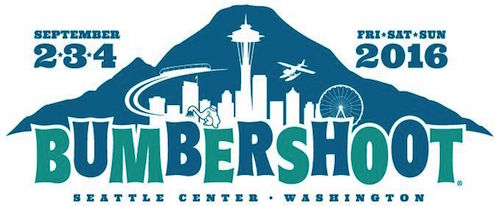 The rumors are true: we at the Seattle Review of Books are incredibly excited to be presenting a show at Bumbershoot this year! When Bumbershoot asked us to program an hour on their Words and Ideas stage, we decided to ask three Seattle-area poets known for their awesome performance skills to share a stage for the first time ever. Happily, all three said yes.
EJ Koh wowed us at last year's Lit Crawl with her clarity, stage presence, and incisive poems. She's also published a poem called "Korean War" on our Tuesday poetry chain.
Robert Lashley is one of the most compelling performers we've ever seen. When he reads, every atom in the room stands still; his fiery delivery and his passionate poems — if you haven't yet read his collection The Homeboy Songs, you should amend that mistake right now — are unforgettable.
And Sherman Alexie is, plainly and unhyperbolically, the single best reader in the Pacific Northwest. He's riotously funny and brilliant and he brings his poems to life with a singular energy. Alexie has been reading in Seattle for decades now, and he still commands rooms with his inviting humor and cutting observations. With on-the-rise talents like Koh and Lashley on the bill, Alexie was clearly the only worthy headliner; we're so grateful that he agreed to take part in this show.
This is going to be a memorable one, folks. What happens when you put three show-stoppers on a single bill? Damned if I know, but I sure am excited to find out. Bumbershoot is happening on Friday, Saturday, and Sunday, September 2nd, 3rd, and 4th. Tickets go on sale Friday at 10 am. We'll see you there.