Every week, the Seattle Review of Books backs a Kickstarter, and writes up why we picked that particular project. Read more about the project here. Suggest a project by writing to kickstarter at this domain, or by using our contact form.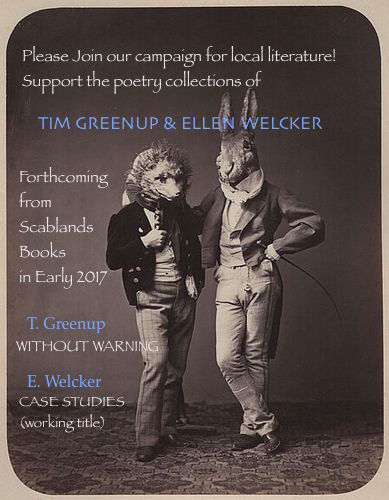 What's the project this week?
Scablands Books. We've put $20 in as a non-reward backer
Who is the Creator?
What do they have to say about the project?
Help us publish the poetry collections of local writers Ellen Welcker and Tim Greenup!
What caught your eye?
If you're a regular reader of the Seattle Review of Books, or a fan of Northwest writing, you know Sharma Shields. She's written for us, and is the author of the novel The Sasquatch Hunter's Almanac, and the short story collection Favorite Monster.
This project by her is all about publishing poetry collections from fellow inland Northwest writers Ellen Welcker and Tim Greenup.
Why should I back it?
Local pride, for one. Spokane has a burgoning lit scene, and that's great to see. Also, the money is to make the books right, from paying the poets a good rate, to hiring designers to lay them out right. Here's to small publishers in Spokane!
How's the project doing?
They're 42% funded currently, with less than $1400 pledged of their $8k goal.
Do they have a video?
Kickstarter Fund Stats
Projects backed: 20
Funds pledged: $400
Funds collected: $300
Unsuccessful pledges: 0
Fund balance: $640