Wednesday August 31: I Will Send Rain
Rae Meadows' fourth novel,
I Will Send Rain
, is set against the backdrop of the mid-1930s dustbowl. It's the kind of impressive, intensely researched work that reinvigorates an author's career. Meadows shares the stage tonight with Seattle author Martha Brockenbrough, author of
The Game of Love and Death
.
Elliott Bay Book Company, 1521 10th Ave, 624-6600, elliottbaybook.com . Free. All ages. 7 p.m.
Thursday September 1: Wintering and The Gunnywolf
It takes some poets years to put out a single collection of poetry. This year, Seattle poet Megan Snyder-Camp has published two:
Wintering
is based on the journals of Lewis and Clark, while
The Gunnywolf
examines racial tensions in America through the lens of a mythological creature.
Hugo House, 1021 Columbia St., 322-7030, hugohouse.org. Free. All ages. 7 p.m.
Saturday September 3rd: Loop Day Party
This fall will see a movie adaptation of Ransom Riggs's debut book for young readers,
Miss Peregrine's Home for Peculiar Children
. Today, University Book Store's Mill Creek location celebrates the release of a new book in the series,
Tales of the Peculiar
, with a black-and-white costume party, a photo booth, and writing contests.
University Book Store Mill Creek, 15311 Main St., 425-385-3530. ubookstore.com. Free. All ages. 4 p.m.
Labor Day Weekend: Bumbershoot Literary Stage
See our Literary Event of the Week column for more details.
Seattle Center, http://bumbershoot.org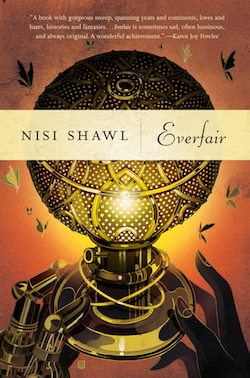 Tuesday September 6: Everfair
Sci-fi author and book reviewer Nisi Shawl has long been a terrific supporter of Seattle's literary scene. Tonight, Shawl debuts her novel
Everfair
, a steampunk recasting of the colonization of the Belgian Congo, providing Seattle an opportunity to return the favor. Shawl is one of the best sci-fi writers in town, and she deserves to be celebrated
University Book Store, 4326 University Way N.E., 634-3400, http://www2.bookstore.washington.edu/. Free. All ages. 7 p.m.