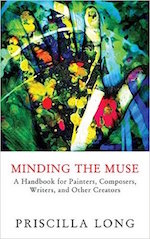 Paul has recommended you go see Steven Barker on Thursday night at Hugo House. While I think that's a great option, I wanted to also recommend an alternative: Priscilla Long at the Elliott Bay Book Company.
Long has two newly released books: Minding The Muse: a Handbook for Painters, Composers, Writers, and Other Creators (reviewed today by Bonnie J Rough), and Fire and Stone: Where Do We Come From? What Are We? Where Are We Going?, a book of essays.
She's a local poet (we ran one by her a few months ago) teacher, and long-time friend to writers (The Writer's Portable Mentor, from 2010, is a particular favorite of mine). Her background exploring the history of creativity, art, and expressions of everything from joy to grief will no doubt make interesting conversation in our current climate.
Elliott Bay Book Company, 1521 10th Ave, 624-6600. Free. All ages. 7 p.m.