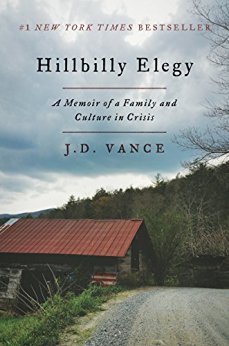 Wednesday November 23rd: Read Hillbilly Elegy
If you haven't already, please start reading J.D. Vance's
Hillbily Elegy
so you can discuss it with us at our
Reading Through It book club
, which happens on December 7th at Third Place Books Seward Park.
Thursday November 24th: Happy Thanksgiving!
Eat, drink, and try not to think about who's going to be president in less than two months.
Friday November 25th: Read a Book You Already Own
Check out of all the Black Friday nonsense by staying home with a book you've bought but not read. Think of it as past you buying present you a gift. Don't go to a mall. Stay home and relax.
Saturday November 26th: Indies First Party Bus
See our Event of the Week column for more details. Various locations. Free. All ages. Noon – 5 p.m.
Sunday November 27th: Visit a Library
We still live in a country in which public libraries are open and available to the public. I mean, really: why
wouldn't
you visit a public library?
Monday November 28th: LOUD IDIOTS Reading
Baltimore poet and short story writer Sarah Jean Alexander reads in Seattle for the very first time to celebrate her new book,
LOUD IDIOTS
. She's joined by two of the guiding lights of the soon-to-be-nonexistent APRIL Festival, Frances Chiem and Willie Fitzgerald, along with Seattle-area writer Richard Chiem.
Vermillion, 1508 11th Ave, http://vermillionseattle.com/. Free. All ages. 7 p.m.
Tuesday November 29th: Two Sarahs Read Poetry
Sarah Riggs has written five books of poetry and she's also also directed films, including Six Lives: A Cinepoem. Riggs has come all the way from New York City to celebrate the latest book of poetry by Seattle author Sarah Mangold, the excellently titled Giraffes of Devotion. Open Books, 2414 N. 45th St., 633-0811, openpoetrybooks.com. Free. All ages. 7 p.m.