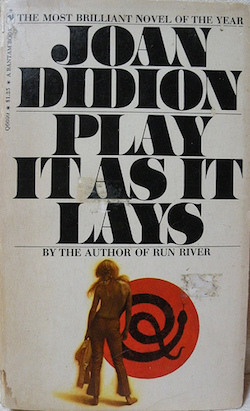 Wednesday December 28th: Play It As It Lays Book Club
Booksellers at the south end's newest bookstore discuss the divine Joan Didion's 1970 novel
Play It As It Lays
. Didion is (rightfully) best known for her nonfiction, but her novels are in danger of being entirely forgotten. Let Thid Place's Anje and Wesley help you understand why that would be an absolute crime.
Third Place Books Seward Park, 5041 Wilson Ave S, 474-2200, http://thirdplacebooks.com. Free. All ages. 7 p.m.
Friday, December 30th: 2016 Fuck Off
The owners of Seattle's newest comics store, the recently Kickstarted Outsider Books in Fremont, is closing out the year with a party that includes a sale on comics, food and drink, some games, and information about how to get involved in your local community. If you haven't checked out Outsider yet, this is the perfect excuse.
Outsider Books, 223 N. 36th St., 535-8886, http://outsidercomics.com/. Free. All ages. 5 p.m.
Sunday January 1st: Third Place Books Book Sale
This has become a Seattle new year's tradition: every branch of Third Place Books—including this year's new edition, the Seward Park store, kick off the new year with a
giant 20% off sale of every book on their shelves
. Go stock up for the winter.
Third Place Books Locations, http://thirdplacebooks.com. Free. All ages. 10 a.m.
[CORRECTION: An earlier version of this post claimed that Third Place Books was selling only used books at 20 percent off on January 1st. In fact, they're selling every book, new and used, at 20 percent off.]
Tuesday January 3rd: Dimension's Edge Book Club
The popular Mill Creek sci-fi book club discusses Patrick Rothfuss's fantasy novel
The Name of the Wind
, about the life and times of "the most notorious magician his world has ever seen." Yes, even more notorious than that creepy David Blaine. Think of it as Harry Potter, only with more crime and smut.
University Book Store Mill Creek, 15311 Main St., 425-385-3530. ubookstore.com. Free. All ages. 6:30 p.m.