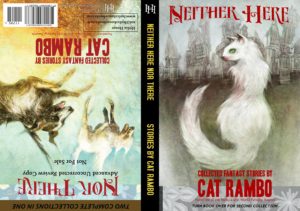 Wednesday January 11th: Cat Rambo and Margaret Chiavetta
Two Seattle-based fantasy authors debut new work at Seattle's best sci-fi bookstore. If you've been involved in our sci-fi community, you likely know Rambo's name. Her newest book,
Neither Here Nor There
, is a collection of fantasy stories. You can see a tiny version of the nifty flip-cover format of the book right above this calendar entry. Chiavetta's
Sir Duffy's Promise
is the first in a new middle-reader fantasy series
University Book Store, 4326 University Way N.E., 634-3400, http://www2.bookstore.washington.edu/. Free. All ages. 7 p.m.
Thursday January 12th: Leaving the Planet Opening Reception
Greg Stump's deceptively simple comics are Seattle's best-kept secret. From his early-2000s comic contributions to
The Stranger
to his magnum opus
Disillusioned Illusions
, Stump has been gradually stripping away all artifice to discover a kind of cartooning nirvana. Tonight, Stump kicks off his first non-comics art show with
Leaving the Planet
, an ink-and-watercolor extravaganza showcase.
Joe Bar, 810 E. Roy St., 324-0407. Free. All ages. 6 p.m.
Friday January 13th: Indigenous London Reading
Canadian history professor Coll Thrush, who wrote a terrific history of indigenous Seattle, returns with a book about the history of native peoples from America and New Zealand who traveled to the very center of the British Empire from the 16th century onward. This is a fascinating new twist on the study of colonialism.
Elliott Bay Book Company, 1521 10th Ave, 624-6600, http://elliottbaybook.com . Free. All ages. 7 p.m.
Saturday January 14th: Bring on 2017!
Open Books, under the guidance of new owner Billie Swift, has been kicking ass with its reading series lately. The store kicks off a new year of literary events with a reading from four Seattle-area poets: Samar Abulhassan, Natasha Marin, Imani Sims, and Anastacia Renee Tolbert. Come join the party.
Open Books, 2414 N. 45th St., 633-0811, http://www.openpoetrybooks.com. Free. All ages. 7 p.m.
Sunday January 15th: Writers Resist: A Celebration of Free Speech
It seems impossible that this week will bring both the annual celebration of Martin Luther King, Jr.
and
Donald Trump's inauguration. But here we are. To mentally prepare for the discord to come, why not attend this freedom-minded reading by writers from Bellingham (Robert Lashley) and Spokane (novelist Jess Walter, poet Tod Marshall) and Seattle (Elissa Washuta, Jane Wong, G. Willow Wilson)?
Town Hall Seattle, 1119 8th Ave., 652-4255, townhallseattle.org. $5. All ages. 7:30 p.m.
Monday January 16th: Something Special
The Egyptian Theatre is so beautiful and so welcoming that I've always thought it was kind of a shame that nobody ever hosted a reading there. Tonight, my dream comes true: Something Special is a multimedia celebration of short films, music (from Cosmos the Band) and spoken word (from Nikkita Oliver, Troy Osaki, and Leija Farr.)
Egyptian Theatre, 805 E. Pine St., 324-9996, http://www.siff.net. $10. All ages. 9 p.m.
Tuesday January 17th: Conflict Is Not Abuse Reading
See our event of the week column for more details.
Seattle Public Library, 1000 4th Ave., 386-4636, http://www.spl.org. Free. All ages. 7 p.m.