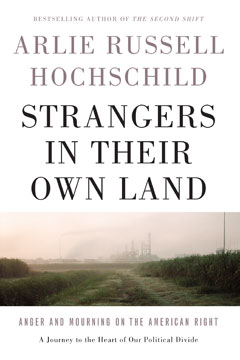 Wednesday March 1st: Reading Through It: Strangers in Their Own Land
The
Seattle Review of Books
and the
Seattle Weekly
present our monthly current-events book club. This edition focuses on Arlie Russell Hochschild's
Strangers in Their Own Land: Anger and Mourning on the American Right
. Hoschchild, a sociologist from Berkeley, reports on what happened when she went to deep-red America to figure out what makes Republicans tick.
Third Place Books Seward Park, 5041 Wilson Ave S, 474-2200, http://thirdplacebooks.com. Free. All ages. 7 p.m.
Alternate Wednesday March 1st: Ben Fountain
Okay, so Ang Lee's film adaptation of Ben Fountain's novel
Billy Lynn's Long Halftime Walk
was a total bust. But that doesn't detract from the book: with his debut novel, Fountain stabbed into the heart of American self-regard. Come celebrate one of the brightest young talents to appear on the scene in the past decade.
Benaroya Hall, 200 University St., 215-4747, lectures.org. $2o. All ages. 7:30 p.m.
Thursday March 2nd: Finding Common Ground in America
On the long list of journalists who screwed up during the 2016 presidential election, you won't find Matt Taibbi's name. Unlike most pundits, the
Rolling Stone
writer never discounted the rise of Bernie Sanders or the victory of Donald Trump. Tonight, Taibbi joins progressive activist Joel Berg in conversation.
Town Hall Seattle, 1119 8th Ave., 652-4255, townhallseattle.org. $5. All ages. 7:30 p.m. PAUL CONSTANT
Friday March 3rd: First Second Comics Panel
See our Event of the Week column for more details.
Seattle Public Library, 1000 4th Ave., 386-4636, spl.org. Free. All ages. 7 p.m.
Saturday March 4th: Saturday on Mars!
Seattle author Kevin Emerson launches (haw-haw) his new sci-fi middle-reader novel
Last Day on Mars
, about a young man who lives on Mars after the destruction of Earth. The Bureau of Fearless Ideas celebrates with a fun party including a reading, cake, science experiments, and readings from young BFI writers.
Bureau of Fearless Ideas, 8414 Greenwood Ave N., 725-2625, http://fearlessideas.org. All ages. 1 p.m.
Sunday March 5th: Words from the Cafe
Washington state's poet laureate, Tod Marshall, helps celebrate a new book/cd compilation from local publisher Raven Chronicles Press. Edited by Anna Balint, Words from the Café allows Seattleites suffering from addiction, mental illness, and/or homelessness tell their own stories in their own words.
Elliott Bay Book Company, 1521 10th Ave, 624-6600, elliottbaybook.com . Free. All ages. 2 p.m.
Monday March 6th: Paul Havas Reading
Art critic Matthew Kangas's newest book,
Paul Havas
, focuses on the life, letters, and work of an underrated Seattle-area artist Paul Havas. Havas focused primarily on rural landscapes that were unmistakably Northwestern: gray skies over lush landscapes, mountains, calm waters reflecting tranquil scenes. Come learn about an important figure in the Northwest art tradition.
University Book Store, 4326 University Way N.E., 634-3400, http://www2.bookstore.washington.edu/. Free. All ages. 7 p.m.
Tuesday March 7th: Artificial Emotional Intelligence
Richard Yonck has done a lot of thinking about what will happen when our machines think faster and more deeply than we do. His latest book,
Heart of the Machine: Our Future in a World of Artificial Emotional Intelligence
, investigates what might happen when we get out-thought by our own creations.
Town Hall Seattle, 1119 8th Ave., 652-4255, townhallseattle.org. $5. All ages. 7:30 p.m.