On Wednesday, April 5th at 7 pm, join the Seattle Review of Books and the Seattle Weekly at Third Place Books Seward Park for the latest edition of Reading Through It, our post-Trump book club that examines American issues.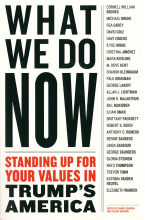 This month, we're discussing What We Do Now: Standing Up for Your Values in Trump's America, a collection of essays published on the occasion of Donald Trump's inauguration. No purchase is necessary to attend the book club, but the book is 20% off right now at Third Place Books Seward Park.
Please feel free to sign on to the Facebook event for the book club, and join the Reading Through It Facebook group if you're so inclined.
We'll see you on April 5th.