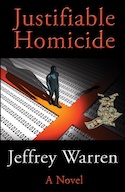 Northwest writer Jeffrey Warren — a long time Seattle resident — set his latest book Justifiable Homicide largely in the city, amongst our high-tech firms. It covers investigative reporting, drug rings, computer wunderkinds, and most notably: encryption. A subject Warren knows well: he's an entrepreneur and engineer.
We've run the full first chapter from Justifiable Homicide on our Sponsor's page. If you like gripping thrillers, we think you'll like what you find there.
Sponsors like Jeffrey Warren make the Seattle Review of Books possible. Did you know you could sponsor us, as well? Get your stories, or novel, or event in front of our passionate audience. Take a glance at our sponsorship information page for dates and details.