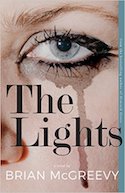 Sponsor Brian McKreevy's new novel The Lights is being released next week. It's a philosophical inquiry into the nature of how we connect in our most intimate bonds — and, bonus, it starts when gifted writer Leda Galvan moves to Austin to join an MFA program. It's an examination of love and art, all set in Texas among aspirational writers.
That's something McKreevy knows all about — he was a James Michener Fellow in fiction and screenwriting at the University of Texas. He's also the author of Hemlock Grove, a gothic novel produced by Netflix into a series. He's "alarmingly talented", and one reviewer said "The Lights is a funny and honest look at how we negotiate our own morality on a sliding scale." Read more on our sponsors page — and get ready for The Lights, coming out next week.
Sponsors like Brian McKreevy make the Seattle Review of Books possible. Did you know you could sponsor us, as well? Get your stories, or novel, or event in front of our passionate audience. We have a few dates in June and July ready for you to grab. Take a glance at our sponsorship information page for dates and details.