Wednesday May 24th: Displaced: Refugee Voices in Conversation
The Northwest Immigrant and Refugee Health Coalition is assembling a panel of refugees to discuss what it's like to become a refugee in this country, and what life in America for refugees is like right now. These are conversations that everyone should hear — a reminder that Trump's policies have real repercussions for real people.
Town Hall Seattle, 1119 8th Ave., 652-4255, http://townhallseattle.org. $5. All ages. 7:30 p.m.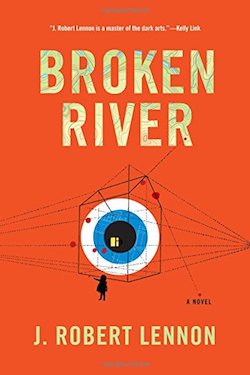 Thursday May 25th: Broken River Reading
J. Robert Lennon's newest novel,
Broken River
, is about a husband and wife who try to find a new start in a house with a history of violence. Lennon is sharing the stage with Seattle author Elissa Washuta in her last local appearance before she takes a position at Ohio State University.
Elliott Bay Book Company, 1521 10th Ave., 624-6600, http://elliottbaybook.com. Free. All ages. 7 p.m.
Friday May 26th: Lashley/Lilley
You already know that Robert Lashley is a force of nature. He's one of the most vibrant readers to come out of the Pacific Northwest. You might not know poet Gary Copeland Lilley, a Cave Canem fellow whose latest book is
The Bushman's Medicine Show
. Together, the two of them are a bicoastal poetry assassin squad.
Open Books, 2414 N. 45th St., 633-0811, http://openpoetrybooks.com. Free. All ages. 7 p.m.
Saturday May 27th: Ghosts of Seattle Past at Folklife
Hard to believe that Folklife is happening already — possibly because it's been a rainy dismal hellscape for the last six months. But we finally made it! And why not celebrate the death of dismal winter with a special group reading by contributors to
Ghosts of Seattle Past
, the book which celebrates lost local landmarks?
Seattle Center, http://www.nwfolklife.org/festival-schedule/. Free. All ages. 1:15 p.m
Sunday May 28th: Girl on the Road Reading
Seattle's Office of Arts & Culture gives out grants to artists of all kinds. One of those grants went to local cartoonist Noel Franklin, for the completion of her memoir,
Girl on the Road
. This afternoon, Franklin presents a reading from the book, which is about friendship and loss and grief. She'll also have printed samples of the book available for the audience.
Vermillion Art Gallery and Bar, 1508 11th Ave., 709-9797, http://vermillionseattle.com. Free. All ages. 5 p.m.
Monday May 29th: Lost in Translation
Look, you've always wanted to read onstage, but maybe you've been afraid of embarrassing yourself at your favorite reading? This is your chance to participate in a once-yearly reading. Sign up 30 minutes before the reading, and participants will be selected at random. If selected, you'll have five minutes onstage, and if you screw — you won't — you'll never see these people again. Go live your dream.
Seattle Center, http://www.nwfolklife.org/festival-schedule/. Free. All ages. 3 p.m
Tuesday May 30th: Loud Mouth Lit
See our Event of the Week column for more details.
St. Andrews Bar & Grill, 7406 Aurora Ave N., 523-1193, http://standrewsbarandgrill.com/. Free. All ages. 8 p.m.