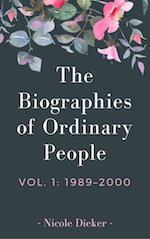 We're thrilled to welcome this week's sponsor, Nicole Dieker, back to the site. Nicole is a Seattle stalwart and a vibrant voice at The Billfold, Lifehacker, the Write Life, and Spark Notes, among others. In fact, we've recently featured an essay by Nicole from The Awl in our Sunday Post.
Just a few months after publication, her debut novel — The Biographies of Ordinary People, Vol. 1 — already has loyal readers waiting eagerly for Vol. 2. Read a full chapter on our Sponsor page to find out why.
You can see her read from the book in Portland on August 4 (Another Read Through; 7 p.m.) or, if you're wandering farther afield, in Missoula on August 11, where she's sharing a stage with author Kayla Cagan and musicians Marian Call and Seth Boyer (Fact and Fiction; 5:30 p.m.).
Sponsors like Nicole make the Seattle Review of Books possible. Did you know you could sponsor us, as well? Get your stories, or novel, or event in front of our passionate audience. We just released sponsorship opportunities through January 2018, and they're going quickly. Take a glance at our sponsorship information page for dates and details.