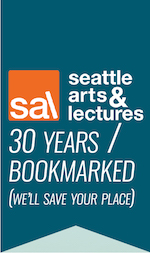 Seattle is alive with great readings and lectures, and this week's sponsor is a standout. Each year Seattle Arts & Lectures presents one of the most carefully curated programs in the city, bringing in big-name speakers and showcasing up-and-comers across a wide range of genres and themes. It's the kind of mix only a long-running series with a loyal audience can pull off.
SAL is celebrating three decades — no small achievement for an arts organization, even in a city like this one — and their 2017–2018 season lineup reflects that spirit of celebration. Single-event tickets go on sale on July 24; grab a subscription this week or be first in line on Monday, before headliners like Colson Whitehead and Viet Thanh Nguyen sell out.
Sponsors like Seattle Arts & Lectures make the Seattle Review of Books possible. Did you know you could sponsor us, as well? Get your stories, or novel, or event in front of our passionate audience. Take a glance at our sponsorship information page for dates and details.