Wednesday July 26th: Pleasure to the People
"Pleasure to the People: Stories of QTPOC Sex and Love" is a storytelling night sponsored by Gay City, Planned Parenthood, and Hugo House. An amazing cast of local writers including Anis Gisele, Imani Sims, Storme Webber, Briq House, and Chad Goller-Sojouner share their stories to start a conversation about race, queerness, and sex.
Northwest African American Museum, 2300 S Massachusetts St, 518-6000. http://naamnw.org. Free. All ages. 6:30 p.m.
Thursday July 27th: Among the Living and the Dead Reading
University of Iowa creative nonfiction writer Inara Verzemnieks reads from her new family history,
Among the Living and the Dead: A Tale of Exile and Homecoming on the War Roads of Europe
. It's a story of how her family traveled from Latvia to Washington state, where she was raised.
Seattle Public Library, 1000 4th Ave., 386-4636, http://spl.org. Free. All ages. 7 p.m.
Friday July 28th: Rules for Walking Out Reading
See our Event of the Week Column for more details.
Couth Buzzard Books, 8310 Greenwood Ave N., http://buonobuzzard.com. Donation. All ages. 7:30 p.m.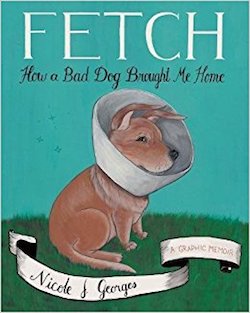 Saturday, July 29th: Fetch Reading
Portland cartoonist Nicole Georges' comic strip starring anthropomorphic dogs was one of the best parts of the recent Grab Back comics anthology. Tonight, she debuts a memoir about a non-anthropomorphic dog, Fetch: How a Bad Dog Brought Me Home. It's about her attempts to save a troubled dog.
Elliott Bay Book Company, 1521 10th Ave, 624-6600, http://elliottbaybook.com . Free. All ages. 7 p.m.
Sunday July 30th: Freeway Park Walking Tour
Freeway Park is Seattle's creepiest park, but it's also kind of impressive. It was the first lid to go over a freeway in the United States. Your guides will walk you through the history of the park in a tour that will span more than five acres. Brutalism never looked so inviting.
Freeway Park, http://www.atlasobscura.com/events/freeway-park-walking-tour. $15. All ages. 1 p.m.
Monday July 31st: Mapping the Impact of Racism in Seattle
Science on Tap is a monthly conversation about scientific topics. It's been happening at the Ravenna Third Place for years, though it recently moved from the pub upstairs to the Vios Café. Tonight's session has a very non-controversial title: "Mapping the impact of racism in Seattle: Have we moved past it?"
Third Place Books Ravenna, 6504 20th Ave NE, 525-2347 http://thirdplacebooks.com. Free. All ages. 6 p.m.
Tuesday August 1st: The Tropic of Kansas Reading
Seattle author Nisi Shawl interviews Christopher Brown about his novel, which imagines a Kansas as a demilitarized zone at the center of a ruined United States of America. A brother and sister who are hiding state secrets wander through the wasteland in an attempt to get to New Orleans.
Third Place Books Lake Forest Park, 17171 Bothell Way NE, 366-3333, http://thirdplacebooks.com. Free. All ages. 7 p.m.