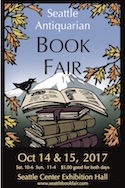 The Seattle Antiquarian Book Fair is back as our sponsor for one last week. This weekend, October 14th and 15th, they'll fill Seattle Center's Exhibition Hall from wall to wall with books, maps, and prints — almost a hundred vendors from the United States, Canada, England, and Spain.
This is the kind of event to plan a weekend around. Start Saturday off with coffee and pastries (you'll need sustenance) and spend the morning and afternoon exploring the Fair's endlessly surprising stock of rarities. Come back on Sunday — one ticket gets you in on both days — to dive deeper with your favorite exhibitors. It's a once-a-year opportunity, different every year, and well worth the time.
Sponsors like the Seattle Antiquarian Book Fair make the Seattle Review of Books possible. We're booked solid through the end of January (thank you, everyone!), but if you have a book, event, or project you'd like to get in front of our readers, reach out and let us know. We'd be happy to reserve a spot for you before the next block of dates goes public.