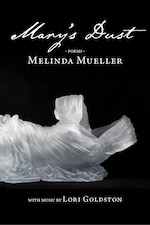 Make sure to save Saturday night, October 21, for the launch party for Mary's Dust, a much-anticipated book by Seattle poet Melinda Mueller. Hosted by sponsor Entre Ríos Books, the event includes a reading by Mueller (and she's a great reader, crisp, clear, and compelling) and live music by cellist Lori Goldston. You'll also get a first peek at a new short film, in which local lights Laura Da', Christine Deavel, and Kathleen Flenniken join Mueller for a "making of."
Mueller is a scientist, as well as a poet, and she brings the scientist's gimlet eye to every line, digging into history for her subjects and transforming what she finds. Mary's Dust re-tells the stories of 32 historical Marys — writers, actresses, physicists; risk-takers and rule-breakers. Entre Ríos has shared one of those Marys with our readers this week. Take a look at our sponsor page for an excerpt from the book, a sample of Mueller reading, and an early look at the new film.
Sponsors like Entre Ríos Books make the Seattle Review of Books possible. Did you know you could sponsor us, as well? If you have a book, event, or opportunity you'd like to get in front of our readers, reach out and let us know. We'd be happy to reserve a spot for you, even before our next block of dates goes public.