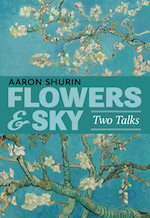 Sponsor Entre Ríos Books is back to invite you to the launch celebration for a new book by San Francisco master Aaron Shurin — Flowers & Sky: Two Talks. Hosted at Open Books, the event features a reading by Shurin and a special guest, Alex Vigue, a Washington native whose debut chapbook is forthcoming from Floating Bridge Press.
Entre Ríos has an excerpt from Shurin's book and more information about the authors and the event on our sponsor page. Check it out, then save room on your calendar for this Friday, November 3rd — it promises to be a great night. Many thanks to Entre Ríos Books for supporting the site and promoting the work of both writers!
Sponsors like Entre Ríos Books make the Seattle Review of Books possible. Did you know you could sponsor us, as well? If you have a book, event, or opportunity you'd like to get in front of our readers, reach out and let us know. We'd be happy to reserve a spot for you, even before our next block of dates goes public.