Monday, March 5: California Calling Reading
Natalie Singer was from Canada. She dreamed of living in California - wrote a whole book about it, in fact, titled
California Calling
- and now she's living in Seattle. Tonight, she debuts her lyric memoir with another Seattle author, Sonora Jha. This book is getting a lot of pre-publication praise and it's from great Oregon publisher Hawthorne Books and this reading is free, so you have no excuse to skip this one.
Elliott Bay Book Company, 1521 10th Ave, 624-6600, http://elliottbaybook.com, 7 pm, free.
Tuesday, March 6: If Tomorrow Comes Reading
Seattle sci-fi author Nancy Kress's latest book,
If Tomorrow Comes
, is about humanity building a spaceship called
Friendship
. We head to the stars to try to find aliens who once visited Earth and then disappeared. What we find instead is a total mystery.
University Book Store, 4326 University Way N.E., 634-3400, http://www2.bookstore.washington.edu/, 7 pm, free.
Wednesday, March 7: So You Want to Talk About Race Reading
See our Event of the Week column for more details.
Elliott Bay Book Company, 1521 10th Ave, 624-6600, http://elliottbaybook.com, 7 pm, free.
Thursday, March 8: Love and Other Consolation Prizes Reading
Seattle author Jamie Ford wrote
Hotel on the Corner of Bitter and Sweet
, a historical novel about a hotel in Seattle's International District. His newest novel,
Love and Other Consolation Prizes
, is set in the Seattle of 110 years ago and it's based on a true story.
Carco Theatre, 1717 SE Maple Valley Hwy, Renton, 775-8600, 7 pm, free.
Friday, March 9: The Monk Woman's Daughter Reading
This novel by a Seattle-area author takes place in the middle of the nineteenth century. It contains slavery, addiction, romance, and adventure. It's also got a pretty good first line: "My mother said she was a nun. That may have been a lie." Third Place Books Lake Forest Park, 17171 Bothell Way NE, 366-3333, http://thirdplacebooks.com, 7 pm, free.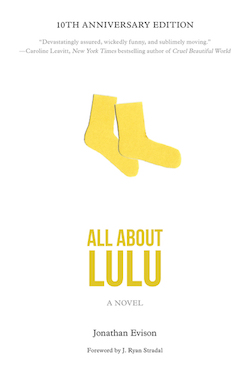 Saturday, March 10: All About Lulu Reading
About a decade ago, Bainbridge Island author Jonathan Evison published his very good debut novel,
All About Lulu
. Tonight, he's celebrating a special 10th anniversary edition of
Lulu
with a big party including music from Mary Ocher and probably some cheap beer. Evison is publishing a new novel,
Lawn Boy
, later this year, so this event will likely be a ramp-up as the author transitions from the monklike world of writing to a more public-facing world of book tours..
Fantagraphics Bookstore & Gallery, 925 E. Pike St., 658-0110, http://fantagraphics.com/flog/bookstore, 6 pm, free.
Sunday, March 11: Don't Skip Out on Me Reading
Singer/songwriter Willy Vlautin is a local favorite who comes to town to charm audiences whenever he publishes a new novel. Press materials indicate that in Vlautin's latest novel, "Horace, a Paiute and Irish ranch hand, decides to become a boxer."
Elliott Bay Book Company, 1521 10th Ave, 624-6600, http://elliottbaybook.com, 3 pm, free.