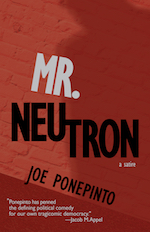 Wondering what to read with your late lunch this Monday afternoon? Try a chapter from sponsor Joe Ponepinto's
Mr. Neutron
— a political, science-fictional satire starring a down-and-out political flunky and a cadaverous (in the best way) mayoral candidate in small-town Grand River.
Ponepinto is known to many of you as the founding publisher and fiction editor of the Tahoma Literary Review. We're honored to have him as a sponsor and delighted to suggest his lastest to you.
Sponsors like Joe Ponepinto make the Seattle Review of Books possible. Did you know you could sponsor us, as well? If you have a book, event, or opportunity you'd like to get in front of our readers, reserve your dates now.