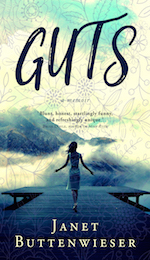 Published barely a month ago, local writer Janet Buttenwieser's memoir
GUTS
is perfectly in season. The story of her double loss — a significant hit to her health, the devastating loss of a friend —
GUTS
is about persistence, resilience, and renewal, a few things we all need right now. It's also about that most Seattle-y sport possible, the triathlon, and using physical endurance to endure emotional challenges. And it's a delight to read: clear, funny, self-reflective.
Hop over to our sponsorship page and check out the prologue, which Janet has generously shared with our readers this week. And join her at Elliott Bay Books on March 31, when she takes the stage with fellow Seattle7Writers Sorting Room Residents. We love when Seattle authors sponsor the site, and we're delighted to offer you a few pages of good reading to make your Monday brighter.
Sponsors like Janet Buttenwieser make the Seattle Review of Books possible. Did you know you could sponsor us, as well? If you have a book, event, or opportunity you'd like to get in front of our readers, reserve your dates now.