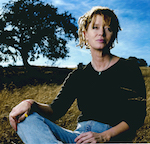 Sponsor Northwest Associated Arts returns to remind us that
Anne Lamott will be at Benaroya Hall
next week. Don't miss this event; Lamott is beloved by readers and writers, and this city is packed with both — the room will be full of energy, from the stage
and
from the seats.
Whether you're a follower of Lamott's Bird by Bird writing guide or a fan of her thoughtful, direct, and funny novels and essays, you should take the chance to see her in person. She's a sharp, warm, and witty speaker and an iconic presence. Get more information on our sponsor's page, or buy tickets here.
If you're interested in joining our community of sponsors and putting your book or event in front of our readers — check out the last dates available in the first half ot he year. We'd love to meet you.


Photo credit: Mark Richards.