Every week we ask an interesting figure what they're digging into. Have ideas who we should reach out to? Let it fly: info@seattlereviewofbooks.com. Want to read more? Check out the archives.
Jez Burrows has just released his first book of short stories, Dictionary Stories, in which he also invented a new form: assembling short stories from Dictionary example sentances. (I liked the book quite a bit). He's a writer, illustrator, and designer. He, a Brit, lives in San Francisco.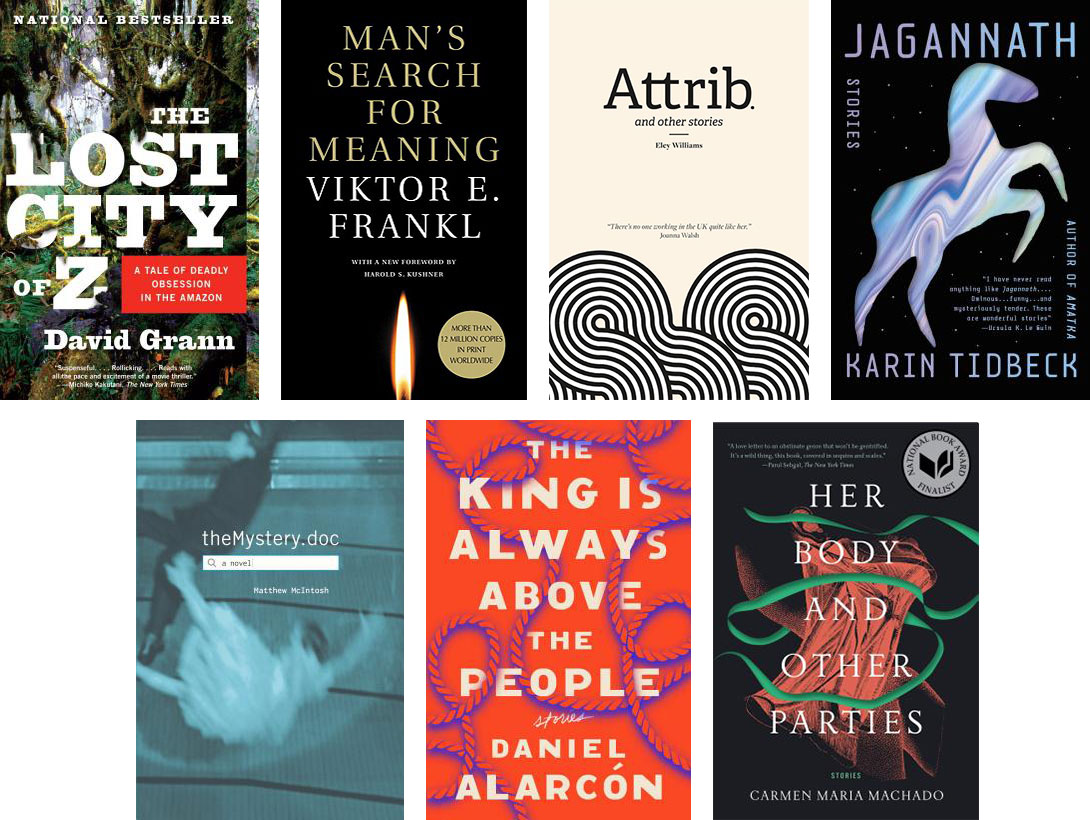 What are you reading now?
I've accidentally ended up in the midst of two books about people in search of apocryphal or spiritual MacGuffins. The first is David Grann's 'tale of deadly obsession in the Amazon', The Lost City of Z, in which he attempts to retrace the steps of the British explorer Percy Fawcett. I'm a sucker for doomed expeditions and jungle-bound lost cities, so I'm practically inhaling the thing. The second is Man's Search for Meaning, Viktor Frankl's story of surviving the concentration camps of WWII and developing his approach to psychotherapy as a result. Impossible to summarise neatly without sounding glib or reductive, but I can tell it's a book I'll want to revisit frequently.
What did you read last?
Two totally remarkable short story collections. I suspected I might be in love with Attrib. and Other Stories by Eley Williams almost immediately, but knew it was true when I read, "I am the first to admit my spirit animal is probably a buttered roll," or maybe, "What's a sentence, really, if not time spent alone?" It frequently reminded me of Ali Smith, another writer who wears a playful love of language on her sleeve — they both reel you in with wordplay, only to completely blindside you with their lyricism. I also loved Karin Tidbeck's Jagannath, which is another slim and unassuming collection that completely took me by surprise. Profoundly strange and skin —crawling shorts that deal with gender, suicide, love, Scandinavian folklore… plus, there's a particularly lovely coda about Tidbeck translating her own work from her native Swedish into English.
What are you reading next?
All 1660 pages of Matthew McIntosh's theMystery.doc have been looming over me for months so it's probably time to take a deep breath and dive in. There are a couple more short story collections in the pile, too: Daniel Alarcón's The King is Always Above the People and Her Body and Other Parties by Carmen Maria Machado.