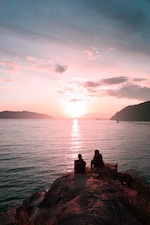 This week, the
Seattle Review of Books
is sponsored by the fabulous Chuckanut Writers Conference. This is a great opportunity for writers, a chance to learn from people at the top of their craft, in a setting that's welcoming, open, and meant to foster connection and engagement. Set for June 22 and 23, the conference is a jam-packed two days of panels, classes,and readings — including the chance for participants to read their own work.
The conference's 2018 theme — "inspiration into action" — captures what they're trying to do: not just get you thinking creatively, but help you get your work on the page and out into the world. This year's keynotes are impressive; Claudia Castro Luna, Washington's Poet Laureate and one-time Chuckanut participant, is one. Here's what she had to say about the experience:
The Chuckanut Writers Conference was very fruitful for me. The workshops were varied and interesting, and I made connections that I have to this day. Bellingham is such a beautiful place, and it was all around very inspiring.
Natalie Goldberg, of the immensely beloved Writing Down the Bones, is also keynoting this year. These two accurately represent the quality of the faculty list — check out a few more names and get links to full information on our sponsorship page. Through May 22, registration is discounted — only $245 — so we suggest you move quickly.
We're grateful to the Chuckanut Writers Conference for supporting the writers who publish here every week and for making sure our readers know about events like this. We'd love to add you to our community of sponsors, too. Find out more and check out available dates here.
(Photo: Jordan Steranka.)