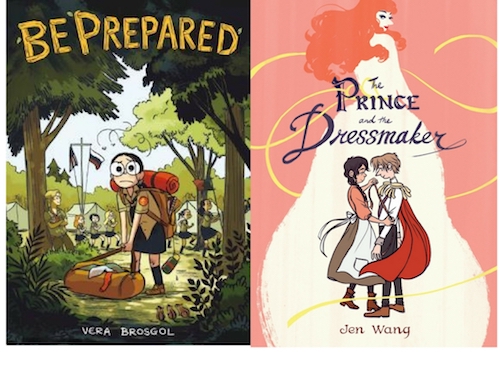 First Second is quietly becoming one of the most consistently enjoyable comics publishers in the industry. The publisher doesn't get a ton of attention in the mainstream press — possibly because it focuses primarily on young adult comics — but readers have taken notice, and librarians have fallen in love with their books. I've recently spent time with two First Second releases, and they're entirely delightful — fun, heartfelt examples of comics as a storytelling art form.
Jen Wang's The Prince and the Dressmaker is a fairy tale romance with a modern twist: a poor young woman wants nothing more than to design and create beautiful gowns. She's plucked from obscurity by a prince to create the dresses of her dreams, but the catch is that they're for the prince himself to wear.
Wang's handling of the prince's need to dress as a woman is note-perfect. It's not a curiosity, or a perversity; it's just who he is. And while he encounters adversity when he heads out on the town as Lady Crystallia, it doesn't really spoil anything to say that Prince is a fairy tale romance with happy endings for all. This is a gentle, kind-hearted love story about being who you are and loving someone else for who they are.
The cartooning in Prince is all about faces: the faces of gossiping society girls at the ball, the pining face of the prince, the worried face of the dressmaker. All the pointing fingers and swooping dresses and bolts of luxurious fabric on every page points to the expressive faces of the characters. Wang is adept at drawing fashion that inspires delighted sighs from her readers, but the real secret to the liveliness in her art is in the mooning eyes and the cocked heads of her characters.
Portland cartoonist Vera Brosgol got her start at the stop-motion animation company Laika, and her brand new memoir-ish comic Be Prepared speaks to those animation roots. The book, about a young Vera getting shipped off to a Russian-language camp for the summer, doesn't contain any of the splashy action sequences of, say, Kubo and the Two Strings, but when Vera wanders through the woods, you can feel her location in space: Brosgol seems to know where every last tree in Camp Orra is located. It feels as real and as solid as the park closest to your house.
Young Vera is a bit of an outcast; she's too young to identify with her adolescent tentmates, and she's too smart to fall for the phony camraderie of awkward friendmaking games. So she gets lonely and she worries that she'll never fit in anywhere.
Be Prepared, thankfully, doesn't suddenly transform Vera into a social butterfly, and it doesn't promise that every childhood hurt will magically heal. But it does promise that if you hang on long enough, things will get better — and that's just the message that kids need to hear.
While the big two comics publishers struggle to appeal to young adult readers with big-eyed cutesy versions of the same old superheroes, First Second is speaking to young readers on their own terms, and telling new twists on classic stories. Forget Archie comics — First Second's are the comics that will inspire future generations of cartoonists to pick up their pens and start doodling.