Monday, April 30: Rock Steady Reading
Ellen Forney is a living Seattle legend. Even if you don't know her work, you know her work - even if it's as "the person who drew those amazing gigantic white hands on red background at the Capitol Hill light rail stop." More likely, you know her from her comics in
The Stranger
from years ago, or her amazing memoir about life with bipolar disorder,
Marbles
, or any of her billion other amazing projects. Her latest book,
Rock Steady
, is an advice book for people with mood disorders. Tonight, she's in conversation with other living Seattle legend, David Schmader.
Seattle Public Library, 1000 4th Ave., 386-4636, http://spl.org, 7 pm, free.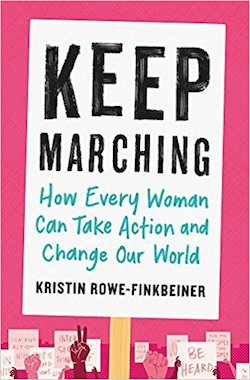 Tuesday, May 1: Keep Marching Reading
If you don't know Kristin Rowe-Finkbeiner, you really should. She's a co-founder of the amazing activist group MomsRising, which advocates for gun safety and public breastfeeding and just about every cause that matters. Tonight, she reads from her new guide for women in politics,
Keep Marching: How Every Woman Can Take Action and Change Our World
. She'll talk onstage with someone who also knows a lot about that: Congresswoman Pramila Jayapal
Elliott Bay Book Company, 1521 10th Ave, 624-6600, http://elliottbaybook.com, 7 pm, free.
Wednesday, May 2: Five Poets
Five authors from across the gender and poetic spectrums come together to read in Wallingford' holiest space. Readers include Olympia's Moss Hope Angel; "genderqueer glitch performer " RE Katz; Tacoma's Chloe Rose, whose "gender is Rilke's dark god;" and Boulder author Kolby Harvey.
Open Books, 2414 N. 45th St, 633-0811, http://openpoetrybooks.com, 7 pm, free.
Thursday, May 3: Night Hawks Reading
Friends, if you don't know who Charles Johnson is by now, I don't know what to tell you. Johnson was for years a stalwart fiction teacher at the University of Washington. In his retirement years, he has refocused his attention on Buddhism and writing. Now, he's publishing his first book of fiction in a very long time, a short story collection.
Northwest African American Museum, 2300 S Massachusetts St, 518-6000. http://naamnw.org, 7 pm, free.
Friday, May 4: Serpent in the Heather Reading
Wenatchee sci-fi author Kay Kenyon comes to Seattle with her latest book: a tale of assassination and spiritualist cults in 1936 Britain. Kenyon will be joined in conversation by Washington sci-fi author Liana Brooks.
University Book Store, 4326 University Way N.E., 634-3400, http://www2.bookstore.washington.edu/, 7 pm, free.
Saturday, May 5: Free Comic Book Day
See our Event of the Week column for more details.
https://freecomicbookday.com/
Sunday, May 6: LeVar Burton Reads Live!
Sweet Jesus, are you going to pass up an opportunity like this? You don't want LeVar Burton to read to you? What the hell is wrong with you?
Neptune Theatre, 1303 NE 45th St, https://www.facebook.com/events/188428798597299/, 8 pm, $30.