Each week, the Sunday Post highlights a few articles we enjoyed this week, good for consumption over a cup of coffee (or tea, if that's your pleasure). Settle in for a while; we saved you a seat. You can also look through the archives.
(MORE): A Journalism Review ran from 1971 to 1978, tweaking the nose and stepping on the toes of mainstream journalism, running stories the big names spiked and saying why. Sometimes the tweaks were juvenile, like compiling a raft of "bus plunge" stories from the New York Times. But often (MORE) brought real news to light and at the same time reminded mainstream media that their peers were watching. Kevin Lerner's history of the publication is packed with great stories and thoughtful reflection about the role of the journalism review in today's embattled media landscape.
In ways that echo the 1970s, American journalism is facing a crisis of confidence once again, and the most self-aware journalists are beginning to critique themselves as much as their audiences are. The current model of journalism is again struggling to adequately describe the world it is trying to cover. The best minds in journalism can find each other easily now, but another (MORE) needs to finish the job it started — to make the press more self-aware, more self-critical, more flexible, and better able to rethink its best practices in the face of its own failure.
Sharp observations from Christine Prevas about how sci-fi uses nonbinary gender to emphasize the non-human nature of non-human characters — and what that means for very human nonbinary readers.
Here, in a novel that isn't about gender, a character is calling attention to the aching lacuna left by the binary question, "are you a boy or a girl?" They are finding an alternative answer. When Soro answers, I'm a Sunai, they are finding a new way to answer the question.

I've answered the question this way, too. A young child at my place of work once asked me: are you a boy or a girl? I panicked and answered: I'm a librarian. Can I help you find something?
One thing's clear in this feisty short essay by librarian Kristen Arnett: patrons should never be allowed near the copy machine. On the challenge of keeping end goals in mind while working on the front lines of circulation.
Circulation is the face of the library. It's a public-interaction job, which means customer service, which means you better be able to smile at someone even if they're yelling about how they broke the copy machine by sticking newspaper in the feed tray "just to see what would happen." It's a glamorous gig, circulation, and so much of it is dealing with people getting pissed off because they can't have the thing they want exactly when they want it.
Franck Bohbot's portraits of New York's independent booksellers (taken with partner Philippe Ungar, whose interviews will be published alongside the photographs in a forthcoming book) are careful and quirky. These aren't Instagram-friendly images of smiling booksellers with piles of gleaming stock; the photos are oddly lit and oddly proportioned, serious, almost somber. Bohbot captures the pride these booksellers take in their stores — and the weight of running a small, stubborn business in an industry crowded by Goliaths.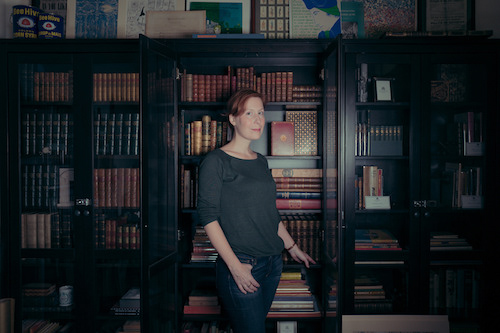 If you thought Big Tech was creepy, meet Big Lens — the newly minted megacompany that's mediating the way we see the world.
Over the coming decades, EssilorLuxottica will have the power to decide how billions of people will see, and what they can expect to pay for it. Public health systems are always likely to have more urgent problems than poor eyesight: until 2008, the World Health Organization did not measure rates of myopia and presbyopia at all. The combined company can choose to interpret its mission more or less however it wants. It could share new technologies, screen populations for eye problems and flood the world with good-quality, affordable eyewear; or it could use its commercial dominance to choke supply, jack up prices and make billions. It could go either way.