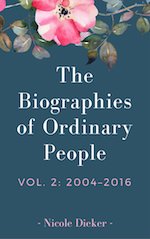 This ... is ... it!
Nicole Dieker was in this spot in December, sponsoring the site to share the first volume of her mighty mini-epic
The Biographies of Ordinary People
. This week, we're welcoming the release of volume 2, the final chapter in the Gruber family story — the one where the girls grow up and find their way in the world. The sample we're featuring is the
perfect place to enter, or reenter, this expansive and personal family story
.
If you don't know Dieker's work already, get to know it: she's a co-owner of The Billfold, her website is an incredible resource for practical and honest info about the freelance writing life, and she hosts the Writing & Money podcast along similar lines. She's reading from Biographies at Phinney Books on June 6.
We can't thank Nicole Dieker enough for returning to sponsor again. Our sponsors make the Seattle Review of Books possible — while putting great books and events under our readers' eyes each week. Did you know you could sponsor us, as well? If you have a book, event, or opportunity you'd like to get in front of our readers, find out more, or check available dates and reserve a spot. We have some discounted dates available in July right now, and they'll go fast.