Monday, May 28: Northwest Folklife Festival
Today at Folklife, you can find all sorts of music, crafts, and food. Storytelling events include a story slam at 11 am, a Spanish-language reading from Seattle Escribe at 3:15 pm, and discussions of food and culture all day long.
Seattle Center, 11 am, $10 suggested donation.
Tuesday, May 29: Aki Kurose Poetry Slam
Every year, the students of Aki Kurose Middle School read their poetry at Third Place Books Seward Park. This sounds like a great way to be inspired by a new generation of young writers. Come show your support.
Third Place Books Lake Forest Park, 17171 Bothell Way NE, 366-3333, http://thirdplacebooks.com, 7 pm, free.
Wednesday, May 30: Writers in the Schools Reading
It's a week for young writers! Students who participate in Seattle Arts and Lectures's excellent Writers in the Schools program will read new work created in the program at this event. Meet tomorrow's great new writers today! Students will read all sorts of original work: poetry, fiction, and memoir.
Seattle Public Library, 1000 4th Ave., 386-4636, http://spl.org, 7 pm, free.
Thursday, May 31: Elements of a Bystander Reading
Seattle writer Juan Carlos Reyes celebrates the launch of a short story collection titled
Elements of a Bystander
. He's joined by Seattle author and publisher Amber Nelson, who has a book out soon titled
The Sexiest Man Alive
. They'll be joined by Jason McCall, who is the author of a book of poetry titled
Two-Face God
.
Vermillion Art Gallery and Bar, 1508 11th Ave., 709-9797, http://vermillionseattle.com, 7 pm, free.
Friday, June 1: Cascadia Magazine Party
See our Event of the Week column for more details.
Vermillion Art Gallery and Bar, 1508 11th Ave., 709-9797, http://vermillionseattle.com, 6 pm, free.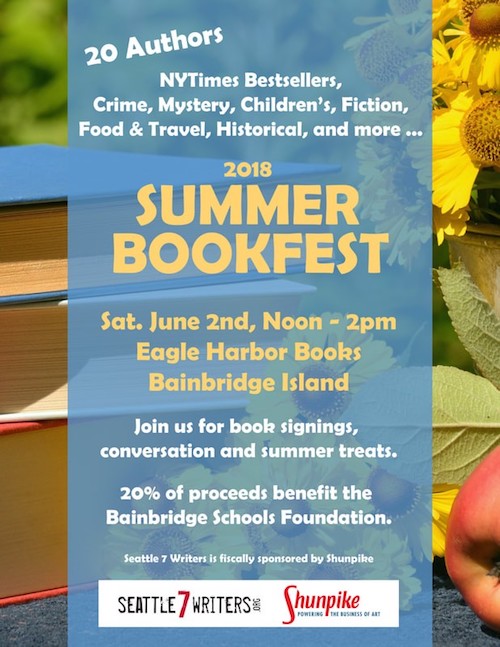 Saturday, June 2: Summer Bookfest
Eagle Harbor Book Company hosts a murderer's row of local talent in a two-hour book festival that benefits the Bainbridge School Foundation. Authors include Elizabeth George, Kathleen Alcala, Anastacia-Reneé, Carol Cassella, Waverly Fitzgerald, Jarret Middleton, Donna Miscolta, Claudia Rowe, and Anca L. Szilágyi. This is definitely worth the trip across the water.
Eagle Harbor Book Company, 157 Winslow Way E, 842-5332, https://www.eagleharborbooks.com/, noon, free.
Sunday, June 3: Manuscript Class Dismissed
For a full year, students have taken Theo Pauline Nestor's Hugo House Yearlong Manuscript Class, which helped them shepherd a memoir from concept to completion. This afternoon, the students will read from their work and maybe talk a little bit about the process of working with a close-knit group of people for such a long time on such an intimate type of writing.
Elliott Bay Book Company, 1521 10th Ave, 624-6600, http://elliottbaybook.com, 3 pm, free.