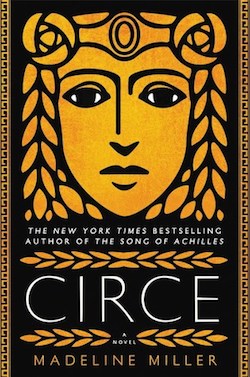 Monday, June 11: *Circe Reading
Madeline Miller's
Circe
was one of the big literary surprises of the spring: a novel that reaches back into mythology and gives voice to a goddess who is often shunted off to the side. Miller will appear in conversation with Nancy Pearl.
University Book Store, 4326 University Way N.E., 634-3400, http://www2.bookstore.washington.edu/, 7 pm, free.
Tuesday, June 12: Rock Steady Reading
Ellen Forney is the one thing on which both old Seattle and new Seattle can agree. Ellen Forney's illustrations are like beams of pure happiness fired straight into your cerebral cortex. Ellen Forney's latest book,
Rock Steady
, is a mental health guide for people who are suffering from mental disorders. It is a book that will save lives. Thank you, Ellen Forney.
Ada's Technical Books, 425 15th Ave, 322-1058, http://seattletechnicalbooks.com, 7 pm, free.
Wednesday, June 13: Like a Mother Reading, Moss Volume 3 Release Party
See our Event(s) of the Week Column for more details.
The Summit, 420 E. Pike St., 652-4255, http://townhallseattle.org, 7:30 pm, $5, 21+.
and
Type Set, 3827C, S Edmunds St, https://www.typesetseattle.com/, 7 p.m., free.
Thursday, June 14: The Emperor of Shoes Reading
An American in China takes over his father's shoe factory in author Spencer Wise's new novel. With the help of a Chinese seamstress, the protagonist eventually comes to realize that the factory is an exploitative pit of despair, and unimaginably corrupt besides.
Third Place Books Ravenna, 6504 20th Ave NE, 525-2347 http://thirdplacebooks.com, 7 pm, free.
Friday, June 15: Whirlaway Reading
Poe Ballantine has been writing for a very long time now — it's been nearly 15 years since his novel
God Clobbers Us All
was published. And Ballantine has attracted a ferocious fanbase, full of people who love writing by the Beats but hate the shitty masculine tropes that come with the Beats. His latest novel,
Whirlaway
, is published by excellent Portland press Hawthorne Books, and it's about an escapee from a California asylum.
Elliott Bay Book Company, 1521 10th Ave, 624-6600, http://elliottbaybook.com, 7 pm, free.
Saturday, June 16: Bloomsday Staged Reading
It's Bloomsday again, so get your Joyce on with this reading from
Ulysses
. If you're someone who tried and failed to enjoy
Ulysses
in print, hearing it read aloud might just be the key that unlocks the book for you.
Seattle Public Library, 1000 4th Ave., 386-4636, http://spl.org, 2:30 pm, free.
Sunday, June 17: The Grow House Reading
Seattle author Nick DiMartino debuts his latest thriller, about a marijuana grow house in Maple Leaf which becomes the subject of unwelcome attention and a bookseller who wanders into harm's way.
University Book Store, 4326 University Way N.E., 634-3400, http://www2.bookstore.washington.edu/, 3 pm, free.