Every week we ask an interesting figure what they're digging into. Have ideas who we should reach out to? Let it fly: info@seattlereviewofbooks.com. Want to read more? Check out the archives.
Karen Maeda Allman is the author events co-ordinator at the Elliott Bay Book Company. A former nurse and punk rocker, she has served on numerous jury and awards panels, including the Washington State Book Awards, the DSC Prize, NEA Big Read Book Review Comittee, and the 2018 National Book Award for Translated Literature. Karen was recognized by Seattle Arts and Lectures in 2017 by being named as a Prowda Literary Champion.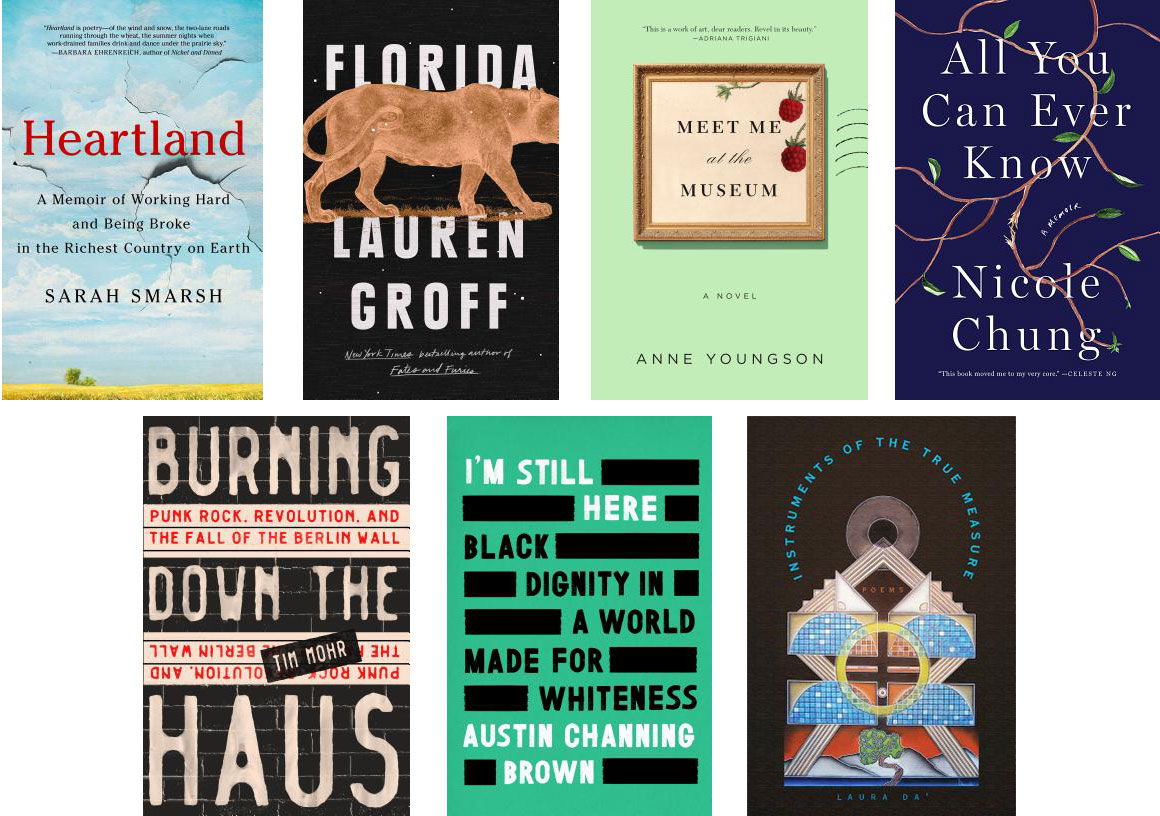 What are you reading now?
One of the great pleasures of bookselling is talking about books with customers, sales reps, publicists, and all sorts of people I meet while working on author events out in the community. Recently, I attended Book Expo, which is an annual trade show and publishing event, and during a meeting with one of the publicists from Simon and Schuster, I for a book recommendation. She told me about one of their fall books, a memoir by Sarah Smarsh called Heartland: a Daughter of the Working Class Reconciles an American Divide. I was immediately struck by the fact that this book is set just outside of Wichita. I was actually born in Wichita and I know nothing about the city or about the farming communities that surround it. I didn't ever think about this place and as I read this book, I began to wonder why.
Sarah Smarsh's family has farmed for 5 generations, but her family and her community's relationship with the land is unraveling. The reasons are part economic and part political, but the crushing inequality and unfairness that members of her community face is intensifying. Life was always hard, but not this hard. She also lays out some of the ways in which her political views and alliances have changed. Any notion of a one-size-fits-all rural point of view crumbles pretty quickly.
Our country is clearly polarized and this book is one that can help us understand some people in a part of the our country that urban blue staters might not think twice about or maybe think about with rancor. I'm hoping it's a conversation starter.
What did you read last?
Like many people, I've been captivated by Lauren Groff's storytelling, both in her novel, Fates and Furies, and now in her short story collection, Florida. Her stories have an element of spookiness rarely seen in the literary novels I've read.
I've also been enchanted by Anne Youngson's novel, Meet Me at the Museum (Flatiron), in which an English farm wife begins a conversation through her correspondence with a Danish professor. Initially the letters are about the Tollund Man, the perfectly preserved body of an Iron Age man that is the subject of the professor's expertise, but the emotional intimacy between the two grows as they begin to share the details of their lives. I'm not always a fan of epistolary novels, but this one pulled me right into their lives. Tollund Man also fascinated Seamus Heaney, who wrote a poem about him, and, having seen a similarly well preserved Iron Age woman elsewhere, I understand his eerie appeal.
What are you reading next?
I have a huge to-be-read pile next to my bed, one by my desk at home, another under a pew in the living room and let's not even talk about what's waiting by my desk at work. At the top of my pile is: Nicole Chung's memoir, All You Can Ever Know (Catapult), the story of a Korean American adoptee's relationship with her white, adoptive family in Oregon and her search for her birth family. Next, I think it's Tim Mohr's Burning Down the Haus: Punk Rock, Revolution and the Fall of the Berlin Wall (Algonquin Books). I'm fascinated by Berlin and want to learn more about the role of punks in the political resistance of the time.
A friend from one of the organizations I've worked with for years stopped in yesterday and told me that I must read I'm Still Here: Black Dignity in a World Made for Whiteness (Convergent) by Austin Channing Brown. "Read this and then I want to talk about it," he told me. I'm Still Here, written by a Black, Christian writer, promises to help us analyze our failures at achieving racial justice (and examines the connection she makes between white Evangelicalism and rising racial hostility in our country). Perhaps she is trying to give us some hope as well as some tough love, which I think is much needed. Is it a coincidence that Austin Channing Brown will appear in Seattle on August 2 at 7 pm at Quest Church, 1401 NW Leary Way? Yes, actually.
But that's not all. On my way out of the store tonight, I checked my mailbox and there was an advance copy of Instruments of the True Measure by Laura Da' and that went straight into my book bag. She's one of my favorite poets and I'm sure that's exactly what I'll need to read on the bus to Bellingham tomorrow.