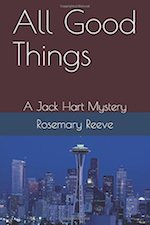 It didn't take more than a sentence — "There wasn't enough blood" — to hook us on Rosemary Reeve's
All Good Things
. Jack Hart is a young associate at a high-powered Seattle law firm. When his friend and mentor Harmony goes missing after a late night at work, Jack goes looking for her — but the search reveals more than he bargained for.
All Good Things is the first in a series of mystery novels based around the likeable Jack Hart character. Set in 1990s Seattle, the series is not just great reading, it's a chance to revisit a city that's still visible in our rearview mirror but receding fast. Check out this sample from All Good Things for a taste.
Sponsors like Rosemary Reeve make the Seattle Review of Books possible. It's thanks to our sponsors that we publish great writing about books every day. And we're humbled and thrilled that the site was sponsor-supported for every week so far in 2018. If you have a book, event, or opportunity you'd like to get in front of our readers, email us at sponsor@seattlereviewofbooks.com! We'd be delighted to help you find a date in August or beyond.