Every month, Nisi Shawl presents us with news and updates from her perch overlooking the world of science-fiction, fantasy, and horror. You can also look through the archives of the column.
And I feel fine
What's more within SFFH's wheelhouse than the end of the world as we know it? As a child I watched cowboy movies in theaters with clearly marked radiation shelter entrances, and practiced hiding from nuclear attacks under my flimsy little school desk. But when a babysitter stopped me from eating snow because "the Russians" had poisoned it with bomb tests, I knew hiding was no use. Snow falls everywhere.
In SFFH literature that duck-and-cover strategy was just as futile. Nevil Shute's contemporary classic On the Beach depicted a bunch of Australians awaiting inevitable death in a nuclear war's wake. Pat Frank's Alas Babylon was another bestselling novel of the nuclear holocaust. Theodore Sturgeon's "Thunder and Roses", and Ray Bradbury's "There Will Come Soft Rains" and "The Garbage Collector" are powerful short stories on the same topic. It's like writers are subject to the same traumatizing expectations as the rest of us (sarcasm emoji).
But as the nature of real-world catastrophes has mutated, their SFFH depictions have changed. The likelihood of atomic warfare lessened. In its place loomed twin specters: ecological devastation and plague. Suzy McKee Charnas's 1974 novel Walk to the End of the World is a "nice" mash-up: an ecological disaster drives government bureaucrats into the (real-life) underground enclaves designed to protect them from nuclear attack; from there they bring forth a horrifically misogynistic society in which cannibalism is a woman's best option.
James Tiptree, Jr.'s "The Last Flight of Dr. Ain" came out in 1969, a plague-pocalypse still spawning tributes such as Joanne Rixon's unpublished "The Last Flight of Ashley Drescher."
Octavia E. Butler's Lilith's Brood series begins in the aftermath of a global nuclear war; that path to annihilation still seemed open when she began the trilogy with Dawn in 1987. But already in 1983 she was exploring the plague-ridden road to oblivion in her Hugo Award winning "Speech Sounds," a short story imagining the quick dissolution of civilization under an onslaught of contagious aphasia and illiteracy.
Zombies power most plague-focused SFFH apocalypses, with horror their regular turf — although SF has hosted some thought-provoking zombie tales too. A few of my favorites across spec fic subgenres are The Loving Dead by Amelia Beamer, Lord Byron's Novel by John Crowley, The Girl with All the Gifts by M.R. Carey, and Zone One by Colson Whitehead.
SFFH explores various depictions of outraged nature's effects on us. In John Varley's Slow Apocalypse, runaway bioweapons destroy the entire world's oil fields in a matter of days, leading to massive cultural regression. In Kim Stanley Robinson's New York 2140 and Tobias Buckell's Arctic Rising, though, no additional action is needed to bring the planet's delicately balanced natural forces tumbling down on our heads — they're already falling. To be sure, in these two examples, at least, life goes on — but a radically different life.
The idea of eco-catastrophe is something we have always had with us, journeying beside us through those nightmare atomic wastelands. Pairing it up with that stalwart of the genre, alien invasion, Jeff VanderMeer has written Area X: The Southern Reach Trilogy. He describes not so much an apocalypse as a breach in consensus reality, with gnomic messages left for Area X's explorers via luminescent slug trails and similar shifting, rotting, signifiers.
What's next? Perhaps a sudden spate of political disaster fiction. Slate published ten pieces of it for their 2017 Trump Story Project. Christopher Brown's Tropic of Kansas supposedly takes place in an alternate universe, but the oppression and cognitive dissonance of its setting are nauseatingly familiar. Fortunately it ends where I also want to wind up: in hopefulness.
Recent books recently read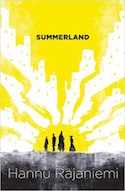 Summerland (Tor), the new novel by former mathematical physicist Hannu Rajaniemi, takes place in a bona fide afterlife, which should be a locus of hope. But like the mortal world it's divided along national boundaries, and ghostly spies compete just as fiercely for dominance there as here. Lovecraftian lurkers await in Summerland's unexplored depths; British agent Rachel White and the Russian mole she hunts struggle above this dark abyss. The mole longs for the certitude denied by The Liar's Paradox but promised by submergence in the group mind that comprises the Soviet's Heaven. White longs to defend her country, repair her career in government espionage, and rescue her faltering marriage to a veteran of ectoplasmic combat. Following the lines of their conflicting and overlapping desires, I as a reader felt satisfied again and again by the author's ability to convey humankind's universal and eternal weaknesses and strengths.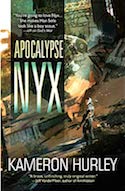 Pulled together from novellas published primarily on her Patreon fundraising site, Kameron Hurley's Apocalypse Nyx (Tachyon)is a welcome return to the adventures of the author's iconic hard-fisted anti-heroine. An ex-government assassin both rogue and scrupulous, by the end of the book Nyx has survived to the ripe old age of thirty something despite her penchant for binge drinking and her disregard for commonly accepted rules of engagement. These five glimpses into her passage from an explosives expert fresh off a centuries-old battlefront to a bounty hunter in war-ravaged cities and villages show her being both tender and tough, both reckless and cynical. My favorite story's the final one, in which Nyx notes how ridiculous it is for a killer like herself to have a panging conscience — but declines a ride home out of the desert from colleagues who set fire to a house full of children anyway.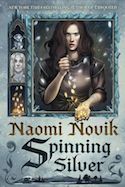 Second of her non-Temeraire books, Naomi Novik's Spinning Silver (Del Rey) revisits the vaguely European fantasy milieu of her award-winning novel Uprooted. Jewish folklore underpins them both, but this new story's much grimmer. Famine; unnaturally prolonged winters; persecution by Christian neighbors; physically abusive fathers and distantly scheming ones; all these harshnesses have a chilling effect on the intertwined tales of Miryem and Wanda of Pavys, and Irina, daughter of a nobleman and bride of a demon-possessed tsar. The nameless king who commands Miryem to change his silver to gold is conquered not by cheating but by the magic that comes only "when you [make] some larger version of yourself with words and promises, and then [step] inside and somehow [grow] to fill it." Multiple first-person perspectives simultaneously narrow and widen the narrative. All this renders Spinning Silver uncomfortable, unorthodox, and unforgettable.
A non-con and a no-go
On August 18 I'll take part in an afternoon of subversive thinking called Economic Utopias and Dystopias here in Seattle. There's no link for me to share with you yet — no website — but we'll start with a 2pm panel discussion and move on from there to a world building exercise. Stay tuned for the location and names of co-conspirators.
Meanwhile, I full-throatedly recommend you not attend Dragoncon, the self-declared "largest multi-media, popular culture convention focusing on science fiction & fantasy, gaming, comics, literature, art, music, and film in the universe." Basically, they've decided it's best to tolerate intolerance; they've invited a notorious racist, homophobic, misogynist harasser and fired the woman who called him out.