Every week we ask an interesting figure what they're digging into. Have ideas who we should reach out to? Let it fly: info@seattlereviewofbooks.com. Want to read more? Check out the archives.
Anita Sarkeesian is the creator and executive director of Feminist Frequency. If you haven't watched any of their amazing critical video series (beginning with Tropes vs Women in video games, which landed Sarkeesian as one of the primary targets of the organized harassment known as Gamergate), they're excellently produced, entertaining, and educational looks at video games, movies, and overlooked women in history, always through a feminist lens. Sarkeesian also hosts the Feminist Frequency Radio podcast, and if that wasn't enough, she and podcast co-host Ebony Adams have a new book coming out! History vs Women: History vs Women: The Defiant Lives That They Don't Want You To Know has a street date of October 2nd, but you can get pre-orders in now. Perhaps through a local indie bookshop?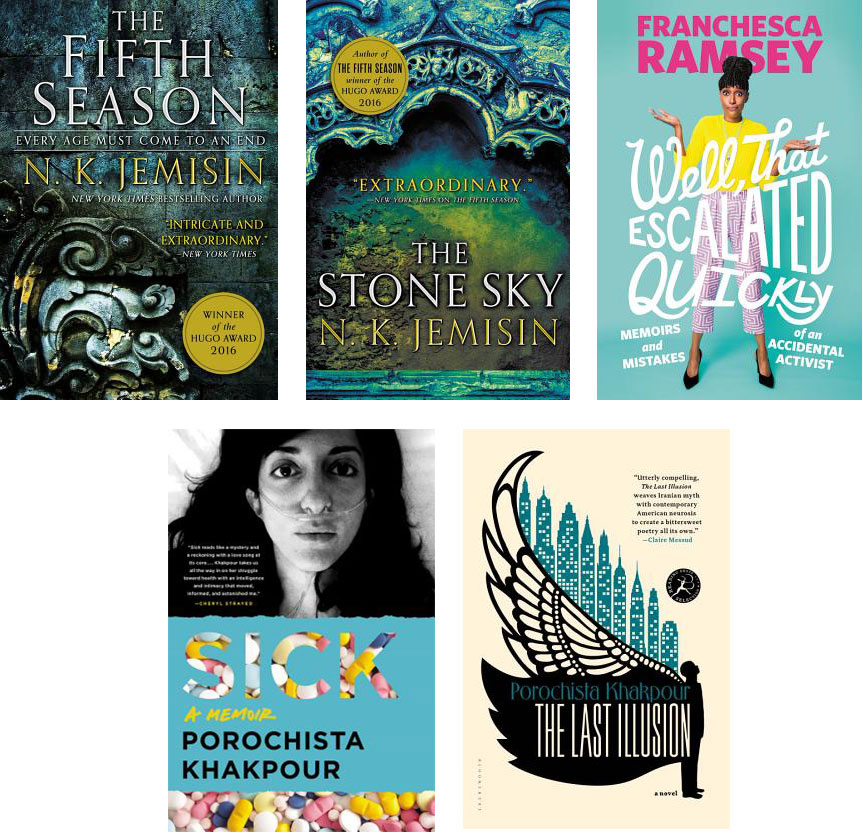 What are you reading now?
I'm currently reading the final entry in NK Jemisin's The Broken Earth Trilogy. I'd first heard of Jemisin because so many of my friends were raving about her writing. To be completely honest, I started reading The Fifth Season, the first book in the series, about three times before I actually got through it. The early sections just weren't grabbing me, but of course I wanted to get into it because my friends loved it so much. Then I met Nora and she was so wonderful and smart and thoughtful that I was like, OKAY, GODDAMN IT, I HAVE TO READ THIS THING! Thank goodness I did, because once I got about a third of the way through the first book, I was absolutely riveted. The character development and world building in this series are spectacular. It's a completely foreign world that nonetheless feels all too familiar because Jemisin, a masterful storyteller, weaves together so many contemporary societal problems and roots them organically in her meticulous fantasy universe. It's just thrilling to come across writing that's simultaneously so imaginative and so replete with meaning. The Broken Earth Trilogy reminds me that fantasy isn't just the stuff of white men warring over a throne; it can be rich, fascinating, complex, and diverse, too.
What did you read last?
Franchesca Ramsey's Well That Escalated Quickly: Memoirs and Mistakes of an Accidental Activist. Ramsey walks readers through her life and career path. We might see folks "make it big" on YouTube and it's as if they just burst onto the scene out of nowhere; we often don't realize the years and years of hard work it took for them to be noticed. In Ramsey's memoir, she talks about how the video that put her on the map, "Shit White Girls Say To Black Girls," came to be, and how it helped her get to where she is now, with a show on MTV, and a gig as a writer and correspondent on the (sadly canceled) Nightly Show, among other exciting achievements. She doesn't shy away from discussing all the bumps along the way, too, and I appreciate Franchesca's candor about falling into activism, learning how to talk about issues of privilege and oppression, and the ways in which she's messed up from time to time.
What are you reading next?
My two fave genres are scifi and memoirs so I often just hop between the two. Next I want to read Sick: A Memoir by Porochista Khakpour. Recently, I read one of her novels, The Last Illusion, which I loved. It's a fascinating tale of a boy who was raised as a bird, a narrative which allowed Khakpour to really explore socially learned masculinity in American culture and its consequences. Sick is her latest book about living with late-stage Lyme disease and the struggles of chronic pain and illness.