Monday, July 16: Beyond Measure Reading
Rachel Z. Arndt has written a collection of essays about the way we quantify our lives: our weights, the times we wake up and go to sleep, the way we try to make ourselves a set of facts and figures for prospective dating partners.
Elliott Bay Book Company, 1521 10th Ave, 624-6600, http://elliottbaybook.com, 7 pm, free.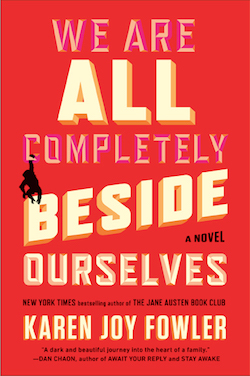 Tuesday, July 17: Karen Joy Fowler
You might best know Karen Joy Fowler for her breakout novel
The Jane Austen Book Club
, and that novel is a delightful modernization of Austen's work. Her latest novel,
We Are All Completely Beside Ourselves
, is about a family that raises a chimpanzee as though it was a human child. But sci-fi writing organization Clarion West is bringing Fowler to town because she's also a writer of science fiction and fantasy.
Seattle Public Library, 1000 4th Ave., 386-4636, http://spl.org, 7 pm, free.
Wednesday, July 18: Folio Grand Reopening
Folio, the private library/events space/coworking space, has moved from its birthplace under the downtown YMCA to a new spot in the Pike Place Market. Today, you are invited to come and meet the Folio board and check out the new digs, which look quite nice. We'll have more about the new space presently on this here website.
Folio: The Seattle Atheneum, Pike Place Market, 93 Pike St #307, http://www.folioseattle.org 4 pm, free.
Thursday, July 19: Sick Reading
See our Event of the Week column for more details.
Elliott Bay Book Company, 1521 10th Ave, 624-6600, http://elliottbaybook.com, 7 pm, free.
Friday, July 20: The Corpse at the Crystal Palace Reading
Carola Dunn writes the kind of mysteries that get described as "beloved." Her Daisy Dalrymple series bounces a plucky heroine around in the 1920s, solving mysteries and meeting interesting people. In other words, this is a perfect summertime literary event for you.
Third Place Books Lake Forest Park, 17171 Bothell Way NE, 366-3333, http://thirdplacebooks.com, 7 pm, free.
Saturday, July 21: Chain Letter
The Capitol Hill reading series returns with a sweaty summer edition featuring Alex Bleecker, Eveline Müller, Nica Selvaggio, and the excellent Graham Isaac. *Vermillion Art Gallery and Bar, 1508 11th Ave., 709-9797,
http://vermillionseattle.com
, 7 pm, free.