Every week we ask an interesting figure what they're digging into. Have ideas who we should reach out to? Let it fly: info@seattlereviewofbooks.com. Want to read more? Check out the archives.
Tom Nissley is a lot of things: author of the fascinating A Readers Book of Days: True Tales from the Lives and Works of Writers for Every Day of the Year, eight-time Jeopardy! champion, and owner of the delightful, and well-loved, Phinney Books. If you like any of his recommendations, it would be only fair to go order them up from Phinney Books, and be sure to check out their awesome Phinney by Post program.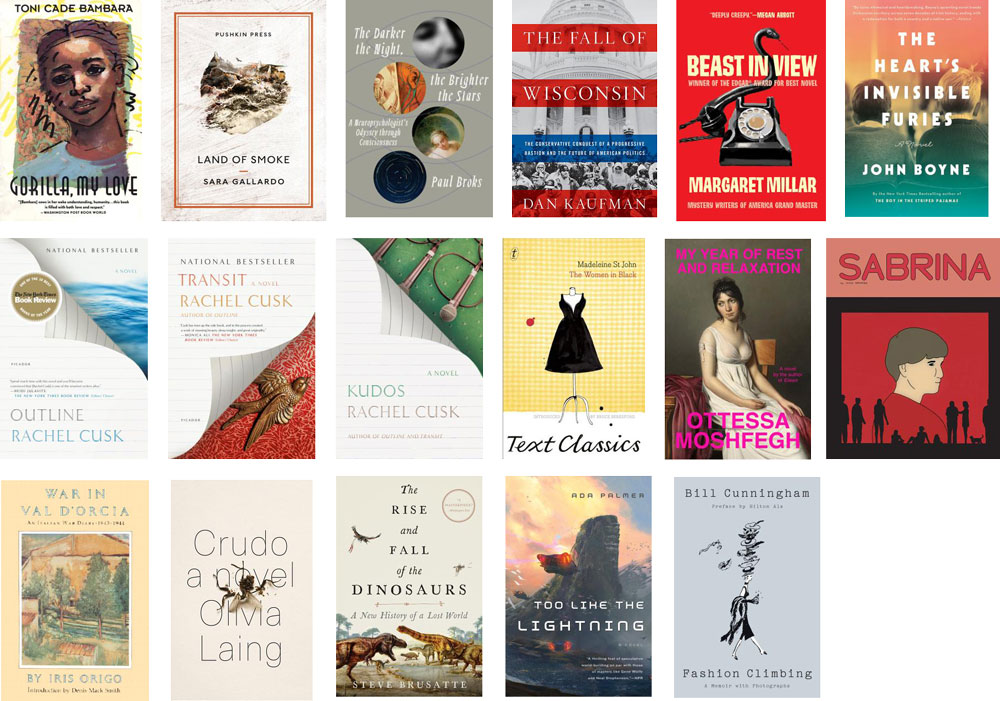 What are you reading now?
There are two kinds of reading I like best: when I'm so far into a good book that I put everything else aside (ha! not likely) and just turn the pages, and when I'm juggling a few good books, going back and forth between them. Right now I'm happily doing the latter. I've just started two books of short stories,
Toni Cade Bambara
's
Gorilla, My Love
and
Sara Gallardo
's
Land of Smoke
, and have one longer book, Paul Broks's
The Darker the Night, the Brighter the Stars: A Neuropsychologist's Odyssey Through Consciousness
, poised to join them.
Gorilla, My Love
's been in the back of my mind to read for decades (it came out in 1972), but once I actually read the "Sort of Preface" that starts things off (go read it yourself — you can
find it on Amazon
) there was no going back, and the first two stories have not disappointed. And I had no expectations for
Land of Smoke
(by an Argentinian writer, written around the same time as Bambara's stories but only now translated into English), and had even forgotten I had ordered it for the store, but once it arrived, as a beautiful little
Pushkin Press
paperback, I couldn't help but pick it up and look through it, and once I had read the strange and confident openings to a few of the stories, well, see above, re: no going back. And
The Darker the Night
? Again, a book I had forgotten even ordering for the store, but somehow it talked its way into my book bag when it arrived. It appears to be a mix of memoir, science, and philosophy, a combo that might be tough to pull off, but I think it might be good, and just right for my current heightened sense of mortality and general doom.
What did you read last?
I just finished Dan Kaufman's The Fall of Wisconsin, a book about how that state went from Fighting Bob La Follette to Scott Walker, which was useful and sad-making, though he was trying his best, in good Wisconsin style, to be optimistic. And before that, I was on vacation and read two disappointing books (Margaret Millar's The Beast in View, a "crime classic" I had high hopes for but was too dated (multiple personalities!!), and John Boyne's The Heart's Invisible Furies, a John Irving-style over-the-top epic that so many of my bookish friends have loved but just wasn't for me) and two I loved: Outline, the first in Rachel Cusk's recently completed trilogy, which somehow makes a non-story about the people a writer meets while flying to Athens to teach a workshop into a totally compelling read, and The Women in Black, a perfect little comic novel from Australia about the employees in the Ladies Frocks department at a Sydney department store in the '50s. It's the most charming thing I've read in ages.
What are you reading next?
The list is long, and, as always, will end in failure, but I am certain I will at least read the other two (Transit and Kudos) in Cusk's trilogy by the end of the summer. Also on the list (some catching up, some trying to get ahead): Ottessa Moshfegh's My Year of Rest and Relaxation, Nick Drnaso's Sabrina, Iris Origo's War in the Val d'Orcia, Olivia Laing's Crudo, Steve Brusatte's The Rise and Fall of the Dinosaurs, Bill Cunningham's Fashion Climbing, and whatever poems my friend Josh Feit posts at Opposite Hex.